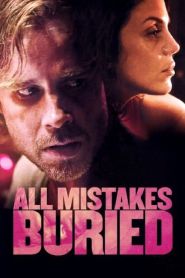 General Information
Glossary: A
Released Year: 2015
Runtime: 84 minutes
Genre: Drama, Thriller
Directors: Tim McCann
Writers: Tim McCann, Shaun S. Sanghani
Casts: Vanessa Ferlito, Sam Trammell, Missy Yager, Nick Loeb
IMDB: All Mistakes Buried (2015)
Sponsored Links
Ratings
User Rating:
IMDB Rating:
5.1
Reviews
RogerEbert.com

-

It's executed with such passion that it holds together better than you might expect.

Los Angeles Times

-

The twists and turns of this stylish and well-acted if minor thriller bring Sonny to unexpected yet apt conclusions.

Village Voice

-

Even when all the puzzling pieces of Sonny's existence don't quite fit, Trammell's beautifully unhinged performance offers a compelling vision of a grieving narcissist burrowing into the rabbit hole of his own mind.

The New York Times

-

Mr. Trammell's drug-induced stammers and tics don't by themselves add up to a compelling portrayal, nor is this drama of the down and out at all gripping.

The Hollywood Reporter

-

Despite the vivid evocation of its central character's helpless self-destruction, All Mistakes Buried offers little that we haven't seen before.
All Mistakes Buried (2015)
A lone, struggling addict takes on a dangerous underground criminal ring in his small Southern town to retrieve a stolen pendant he believes will save his marriage.