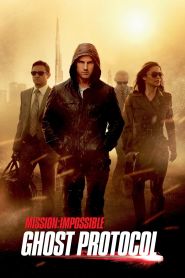 General Information
Glossary: M
Released Year: 2011
Runtime: 133 minutes
Genre: Action, Adventure, Thriller
Directors: Brad Bird
Casts: Simon Pegg, Léa Seydoux, Tom Cruise, Mike Dopud, Michelle Monaghan, Ving Rhames, Tom Wilkinson, Anil Kapoor, Ilia Volok, Michael Nyqvist, Brian Caspe, Jeremy Renner, Paula Patton, Vladimir Mashkov, Samuli Edelmann, Ivan Shvedoff, Josh Holloway, Pavel Kříž, Miraj Grbić, Tammy Hui, Goran Navojec, Pavel Bezdek, Ladislav Beran, Jan Filipenský, Jiri Kraus, Ales Putik, Tomáš Valík, Pavel Cajzl, Randy Hall, Vitaly Kravchenko, Andrej Bestcastnyj, Anastasiya Novikova, Claudia Vaseková, Petra Lustigová, April Stewart, Gina Hirsch, Ghaleb El Saadi, Andreas Wisniewski
IMDB: Mission Impossible – Ghost Protocol (2011)
Sponsored Links
Ratings
User Rating:
IMDB Rating:
7.4
Reviews
The A.V. Club

-

As Cruise clings to the side of the building using malfunctioning equipment, and a sandstorm looms in the distance, the question shifts from whether Bird can direct an action film to whether there's anyone out there who can top him.

Miami Herald

-

The wait for a great action movie is finally over. Mission: Impossible – Ghost Protocol is pure popcorn of the highest, most flavorful order, and it's good for you, too.

Chicago Sun-Times

-

A terrific thriller with action sequences that function as a kind of action poetry.

Boxoffice Magazine

-

Mission: Impossible 4 is so well-made and smooth you may need to see it more than once to truly appreciate its brains and nerves and blood.

Arizona Republic

-

Mission: Impossible - Ghost Protocol is big, it's loud and so relentless in its action that it reminds me of an old joke. Why do you hit yourself in the head with a hammer? Because it feels so good when you stop. In this case, the headache is worth it.
Mission Impossible – Ghost Protocol (2011)
Ethan Hunt and his team are racing against time to track down a dangerous terrorist named Hendricks, who has gained access to Russian nuclear launch codes and is planning a strike on the United States. An attempt to stop him ends in an explosion causing severe destruction to the Kremlin and the IMF to be implicated in the bombing, forcing the President to disavow them. No longer being aided by the government, Ethan and his team chase Hendricks around the globe, although they might still be too late to stop a disaster.