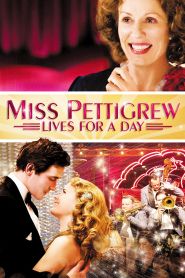 General Information
Glossary: M
Released Year: 2008
Runtime: 88 minutes
Genre: Comedy, Drama, Romance
Directors: Bharat Nalluri
Casts: Ciarán Hinds, Mark Strong, Frances McDormand, Amy Adams, Mo Zinal, Shirley Henderson, Christina Cole, Sarah Kants, Beatie Edney, Lee Pace, Matt Ryan, Tim Potter, Tom Payne, Katy Murphy, Clare Clifford, David Alexander, Stephanie Cole, Sally Leonard
IMDB: Miss Pettigrew Lives for a Day (2008)
Sponsored Links
Ratings
User Rating:
IMDB Rating:
7.1
Reviews
ReelViews

-

Adams shines brightly, reinforcing the image she projected in Junebug and enhanced in Enchanted and Charlie Wilson's War. At this time of the year, it's tough to find a more diverting way to spend 90 minutes in a multiplex.

The Hollywood Reporter

-

Sustains itself through terrific forward momentum and two glorious star turns by gifted actresses Frances McDormand and Amy Adams.

Chicago Tribune

-

Style is a tricky, elusive thing, and this film doesn't so much have it as strive for it, constantly. But something in Watson's story endures: The wish-fulfillment truly satisfies. And with the war clouds gathering by story's end, the fairy tale acquires a bittersweet edge, nicely cutting all that whipped cream.

Variety

-

McDormand's performance slowly builds a solid integrity, and contrasts well with Adams' more flamboyant turn.

Washington Post

-

The film's flaws are nothing compared with the pleasures it offers, chiefly in its unapologetic pursuit of old-fashioned sweetness and romance.
Miss Pettigrew Lives for a Day (2008)
London, England, on the eve of World War II. Guinevere Pettigrew, a strict governess who is unable to keep a job, is fired again. Lost in the hostile city, a series of fortunate circumstances lead her to meet Delysia LaFosse, a glamorous and dazzling American jazz singer whose life is a chaos ruled by indecision, a continuous battle between love and fame.