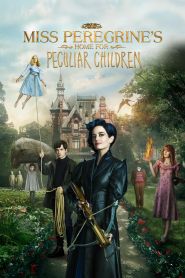 General Information
Glossary: M
Released Year: 2016
Runtime: 127 minutes
Genre: Adventure, Drama, Family, Fantasy
Directors: Tim Burton
Casts: Samuel L. Jackson, Terence Stamp, Allison Janney, Rupert Everett, Tim Burton, Chris O'Dowd, Kim Dickens, Eva Green, Judi Dench, Asa Butterfield, Nicholas Amer, O-Lan Jones, Philip Philmar, Ella Purnell, Scott Handy, Neil Broome, Badria Timimi, Stuart Davidson, Shaun Thomas, Vic Waghorn, Ella Wahlestedt, Raffiella Chapman, Milo Parker, Aiden Flowers, Brooke Jaye Taylor, Lauren McCrostie, Pixie Davies, Dino Fazzani, Cameron King, Finlay MacMillan, Callum Wilson, Georgia Pemberton, Hayden Keller-Stone, Joseph Odwelll, Thomas Odwell, Louis Davison, Jack Brady, Helen Day, Nicholas Oteri, Cameron Greco, Justin Davies, Jennifer Jarackas, George Vricos, Dafydd Hywel, Ioan Hefin, Andrew Fibkins, Jack Fibkins, Jill Buchanan, Erik Lunseth, Jason Redshaw, Joanne Manchester, Terry Li, Julie Eagleton, Jackson Tessmer
IMDB: Miss Peregrine's Home for Peculiar Children (2016)
Sponsored Links
Ratings
User Rating:
IMDB Rating:
6.7
Reviews
Village Voice

-

Burton scales his finale down to the size of a tourist boardwalk for an unexpectedly gripping crowd-pleaser of an action scene.

The Guardian

-

We get the playfulness of seeing quirky magic powers mixed with the familiarity of how a time loop plays out. Add in Burton's authorial visual stamp and what we've got is an extremely pleasing formula. It gels as Tim Burton's best (non-musical) live-action movie for 20 years.

Slant Magazine

-

Tim Burton's direction reminds us of the distinct, peculiar coyness that was always at the heart of his best films.

Variety

-

Goldman's frequently amusing script is the secret ingredient that makes "Miss Peregrine" such an appropriate fit for Burton's peculiar sensibility, allowing the director to revisit and expand motifs and themes from his earlier work.

The Hollywood Reporter

-

For a time, an appealing gentleness prevails that's rooted in this unique inter-generational romance, a feeling augmented in particular by Purnell's slow-blooming flower of a performance, and if the film had remained focused more on the improbabilities of this love story, it might have emerged as something rather special.
Miss Peregrine's Home for Peculiar Children (2016)
A teenager finds himself transported to an island where he must help protect a group of orphans with special powers from creatures intent on destroying them.