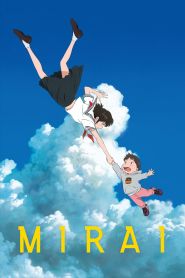 General Information
Glossary: M
Released Year: 2018
Runtime: 98 minutes
Genre: Adventure, Animation, Family, Fantasy
Directors: Mamoru Hosoda
Writers: Mamoru Hosoda
Casts: Koji Yakusho, Masaharu Fukuyama, Haru Kuroki, Kumiko Asou, Yoshiko Miyazaki, Moka Kamishiraishi, Gen Hoshino, Mitsuo Yoshihara, Kaede Hondo
IMDB: Mirai (2018)
Sponsored Links
Ratings
User Rating:
IMDB Rating:
7.1
Reviews
Variety

-

It's the work of a true auteur (in what feels like his most personal film yet) presented as innocuous family entertainment.

The New York Times

-

Fluctuating between the minor daily occurrences of Kun's life and his touching sojourns into the past and the future, Hosoda's film privileges moments of emotion over belabored story mechanics. Thus, it gathers complexity without sacrificing any of its guileless modesty.

Los Angeles Times

-

Master Japanese animator Mamoru Hosoda makes family films, but not in the way you think. It's not that his films are suitable for all ages, though they mostly are. And it's not even that the family unit is central to his work, though it is. Rather it's that Hosoda's films stretch the boundaries of both style and content within the family film rubric.

Rolling Stone

-

Mirai casts a spell that works on children and adults alike, but in different ways. Its creator's artistry and empathy are the connecting links. It may be the animator's smallest film, but it stands tall. You'll be enchanted.

Austin Chronicle

-

An anime version of "Mr. Mom" this is not. Director Hosoda's clear-eyed story allows for comic moments of fatherly ineptitude but focuses just as often on the marital and familial stress this sudden role reversal causes.
Mirai (2018)
The movie follows a 4-year old boy who is struggling to cope with the arrival of a little sister in the family until things turn magical. A mysterious garden in the backyard of the boy's home becomes a gateway allowing the child to travel back in time and encounter his mother as a little girl and his great-grandfather as a young man. These fantasy-filled adventures allow the child to change his perspective and help him become the big brother he was meant to be.