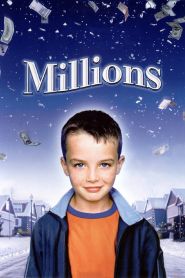 General Information
Glossary: M
Released Year: 2005
Runtime: 98 minutes
Genre: Comedy, Crime, Drama
Directors: Danny Boyle
Casts: Enzo Cilenti, Leslie Phillips, Alun Armstrong, Pearce Quigley, Christopher Fulford, Alexander Nathan Etel, James Nesbitt, Lisa Millett, Daisy Donovan, Nasser Memarzia, Christian Rubeck, Guy Flanagan, Emily Aston, Frank Cottrell Boyce, Steve Garti, Kathryn Pogson, James Quinn, Lewis McGibbon, Jane Hogarth, Harry Kirkham, Cornelius Macarthy, Kolade Agboke, Mark Chatterton, Philippa Howarth, Christy Cullen, Gunnar Winbergh, Toby Walton, Billy Hyland, John Nugent, Alice Grice, Dale Stringer, Warren Donnelly, Tara Moran
IMDB: Millions (2004)
Sponsored Links
Ratings
User Rating:
IMDB Rating:
6.9
Reviews
Entertainment Weekly

-

This sincere, delicate, and intrinsically religious comedy may also become that most unexpected of blessings - Danny Boyle's first family classic.

L.A. Weekly

-

Millions is an intelligent children's film that may prove to be a guilty pleasure for adults.

The New York Times

-

A heartfelt, emotionally delicate children's movie about life and death and all the parts in between.

Los Angeles Times

-

Despite being a pure fantasy that relishes not making literal sense, Millions retains a conviction about what it's doing that makes us believe and enjoy.

ReelViews

-

It's an uplifting motion picture that will bring smiles to faces, and Boyle's trademark irreverence keeps the feel-good experience from becoming too saccharine.
Millions (2004)
Two boys, still grieving the death of their mother, find themselves the unwitting benefactors of a bag of bank robbery loot in the week before the United Kingdom switches its official currency to the Euro. What's a kid to do?