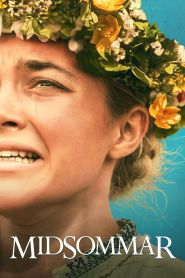 General Information
Glossary: M
Released Year: 2019
Runtime: 148 minutes
Genre: Drama, Horror, Mystery, Thriller
Directors: Ari Aster
Casts: Lennart R. Svensson, Will Poulter, Jack Reynor, William Jackson Harper, Florence Pugh, Björn Andrésen, Julia Ragnarsson, Austin R. Grant, Archie Madekwe, Liv Mjönes, Vilhelm Blomgren, Ellora Torchia, Henrik Norlén, Gunnel Fred, Isabelle Grill, Agnes Westerlund Rase, Mats Blomgren, Lars Väringer, Anna Åström, Hampus Hallberg, Louise Peterhoff, Katarina Weidhagen, Tomas Engström, Dag Andersson, Anders Beckman, Rebecka Johnston, Tove Skeidsvoll, Anders Back, Anki Larsson, Levente Puczkó-Smith, Frans Cavallin Rosengarten, Vilmos Kolba, Mihály Kaszás, Gabi Fón, Zsolt Bojári, Klaudia Csányi, Anna Berentzen
IMDB: Midsommar (2019)
Sponsored Links
Ratings
User Rating:
IMDB Rating:
7.4
Reviews
Consequence of Sound

-

Though it's not outright scary, Midsommar will no doubt unsettle even the most steeled of viewers. It will also satiate those who may have feared a sophomore slump from Aster. Hardly. This film's the real deal, and if anything, it's more audience-friendly than his first. Don't miss it.

IndieWire

-

This is the kind of mad science filmmaking worth rooting for: Aster refashions "The Wicker Man" as a perverse breakup movie, douses Swedish mythology in Bergmanesque despair, and sets the epic collage ablaze. He may not land every big swing, but the underlying vision is hard to shake even when it falters.

Vanity Fair

-

Midsommar is a shocking piece of filmmaking—unnervingly competent even when the film yaws into silliness, even when it risks tedium. This film will alienate a lot of people (much like Hereditary, its audience exit polling is likely going to be abysmal), but there's a wonderfully audacious confidence to the way Midsommar is built.

The Hollywood Reporter

-

More unsettling than frightening, it's still a trip worth taking.

Screen International

-

Aster's bold flourishes occasionally fall flat, but Florence Pugh holds the film together — especially when its plotting stumbles or its shocks grow predictable.
Midsommar (2019)
A young couple travels to Sweden to visit their friend's rural hometown and attend its mid-summer festival. What begins as an idyllic retreat quickly descends into an increasingly violent and bizarre competition at the hands of a pagan cult.