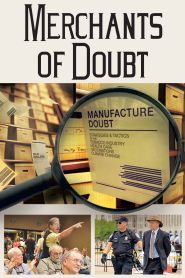 General Information
Glossary: M
Released Year: 2014
Runtime: 96 minutes
Genre: Documentary
Directors: Robert Kenner
Writers: Robert Kenner, Kim Roberts
Casts: Patricia Callahan, Matthew Crawford, Stanton A. Glantz, Katharine Heyhoe
IMDB: Merchants of Doubt (2014)
Sponsored Links
Ratings
User Rating:
IMDB Rating:
7.7
Reviews
Los Angeles Times

-

This enthralling film, based on the book by Naomi Oreskes and Erik M. Conway, is as fascinating as it is horrifying.

Slant Magazine

-

An issues documentary that scores its points through a seductive combination of clearly stated arguments and pithy humor.

Variety

-

An intelligent, solidly argued and almost too-polished takedown of America's spin factory — that network of professional fabricators, obfuscators and pseudo-scientists who have lately attempted to muddle the scientific debate around global warming — this is a movie so intrigued by its designated villains that it almost conveys a perverse form of admiration, and the fascination proves contagious.

Movie Nation

-

Merchants of Doubt has its moments when the professional deniars hem and haw about who pays them to do what they do. But mostly, they're glib, smug, self-confessed and self-righteous tools of Big Coal, Big Chemical or Big Oil.

New York Post

-

As they're akin to spectators at a magic show, viewers ought to keep an eye out for what the Merchants of Doubt don't want us to see.
Merchants of Doubt (2014)
Spin doctors spread misinformation and confusion among American citizens to delay progress on such important issues as global climate change.