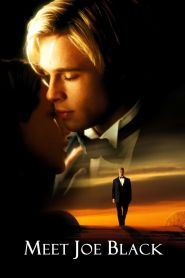 General Information
Glossary: M
Released Year: 1998
Runtime: 178 minutes
Genre: Drama, Fantasy, Mystery, Romance
Directors: Martin Brest
Casts: Brad Pitt, Jeffrey Tambor, Claire Forlani, Gene Canfield, Jake Weber, Anthony Hopkins, Marcia Gay Harden, Suzanne Hevner, June Squibb, Stephen Adly Guirgis, David S. Howard, Lois Kelly-Miller, Jahnni St. John, Richard Clarke, Madeline Balmaceda
IMDB: Meet Joe Black (1998)
Sponsored Links
Ratings
User Rating:
IMDB Rating:
7.2
Reviews
Chicago Sun-Times

-

The movie contains elements that make it very good, and a lot of other elements besides. Less is more.

Entertainment Weekly

-

Sometimes clever and enjoyable, even touching, yet too often the film makes you feel as if you're in Sunday school.

Austin Chronicle

-

Meet Joe Black flows nicely, and the whole of the film is bathed in some of the most sumptuous cinematography (courtesy of "Like Water for Chocolate's" Emmanuel Lubezki) of the year.

The Globe and Mail (Toronto)

-

Ultimately, the movie is a perfect mirror of its star -- looks great, seems empty.

L.A. Weekly

-

Meet Joe Black is a hefty three hours long, and just so you know, it is at least two before Claire Forlani, as the Parrish daughter, Susan, unbuttons Pitt's shirt.
Meet Joe Black (1998)
When the grim reaper comes to collect the soul of megamogul Bill Parrish, he arrives with a proposition: Host him for a "vacation" among the living in trade for a few more days of existence. Parrish agrees, and using the pseudonym Joe Black, Death begins taking part in Parrish's daily agenda and falls in love with the man's daughter. Yet when Black's holiday is over, so is Parrish's life.