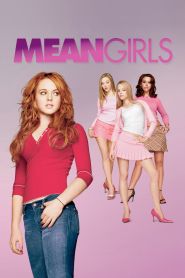 General Information
Glossary: M
Released Year: 2004
Runtime: 97 minutes
Genre: Comedy, Drama
Directors: Mark Waters
Casts: Rachel McAdams, Tim Meadows, Jo Chim, Amanda Seyfried, Amy Poehler, Lizzy Caplan, Tina Fey, Lindsay Lohan, Lacey Chabert, Daniel Franzese, Jonathan Bennett, Ana Gasteyer, Neil Flynn, Rajiv Surendra, Elana Shilling, Graham Kartna, Ely Henry, David Aherne, Ayo Agbonkpolo, Molly Shanahan, Jeff Moser, Miranda Edwards, Les Porter, Daniel DeSanto, Diego Klattenhoff, Dwayne Hill, Alexandra Stapley, Nicole Crimi, Julia Chantrey, Stefanie Drummond, Jill Morrison, Clare Preuss, Krysta Carter, Dan Willmott, Sharron Matthews, Ky Pham, Olympia Lukis, Jan Caruana, Erin Norah Thompson, Danielle Nguyen, David Reale, Wai Choy, Alisha Morrison, Jonathan Malen, Laura de Carteret, Chris Anton, Jacky Chamberlain, Kristen Bone
IMDB: Mean Girls (2004)
Sponsored Links
Ratings
User Rating:
IMDB Rating:
7.0
Reviews
Entertainment Weekly

-

A vinegary fable with a Splenda aftertaste -- is a harbinger of hope not only for future feminist comedies of any grit but also for ''SNL''-staffed feature films that don't disproportionately suck.

Christian Science Monitor

-

The screenplay by Tina Fey -- head writer for "Saturday Night Live" -- is marvelously smart, though, and the ensemble cast is uncannily in sync with it.

The Hollywood Reporter

-

Results in an edgy comedy, where laughs stem at times from uncomfortable situations. In other words, Mean Girls lives up to its title.

Variety

-

This sassy if wildly uneven comedy navigates the treacherous high school jungle that separates cool cliques from wannabes, wading through some nasty behavior before delivering its moral message.

Village Voice

-

Director Waters and screenwriter Tina Fey (also cast as the voice-of-reason math teacher) aim less for the usual high-gloss caricature than acutely hilarious sociology, nailing the servile malice of 15-year-old girls.
Mean Girls (2004)
Cady Heron is a hit with The Plastics, the A-list girl clique at her new school, until she makes the mistake of falling for Aaron Samuels, the ex-boyfriend of alpha Plastic Regina George.