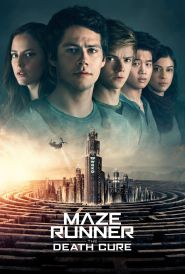 General Information
Glossary: M
Released Year: 2018
Runtime: 144 minutes
Genre: Action, Sci-Fi, Thriller
Directors: Wes Ball
Casts: Dylan Smith, Barry Pepper, Patricia Clarkson, Walton Goggins, Aidan Gillen, Kaya Scodelario, Bart Fouche, Katherine McNamara, Paul Lazenby, Thomas Brodie-Sangster, Will Poulter, Paul Hampshire, Dexter Darden, Jake Curran, Giancarlo Esposito, Dylan O'Brien, Rosa Salazar, Jacob Lofland, Ki Hong Lee, Fiona Ramsay, Nathalie Emmanuel, Parm Soor, Greg Kriek, Clayton Evertson, Emily Child, Nathan Barris, Armando De Leca, Devin Koehler, Paul du Toit, Dylan Kriek, Scot Cooper, Kazi Maubert, Liza Scholtz, Shai Lun Choo, Drikus Volschenk, Dale Jackson, Byron Schepen
IMDB: Maze Runner: The Death Cure (2018)
Sponsored Links
Ratings
User Rating:
IMDB Rating:
6.3
Reviews
Variety

-

Downplaying some of the property's sillier elements when not jettisoning them entirely, and streamlining the narrative into a rousing and at times even emotional action film, "Death Cure" is the most successful entry in the franchise by far.

New York Magazine (Vulture)

-

This is the sort of action film where the bad guys often hold their fire for no discernible reason, and are terrible at dodging things, but if one suspends one's disbelief long enough, they're rewarded with a rollicking, highly competent popcorn movie.

IGN

-

It's a shame that The Maze Runner movies are going out on their flattest note, but The Death Cure isn't completely off-key. Wes Ball has directed every entry in the franchise and he's evolved into a very skilled action filmmaker. Complex set-pieces with an incredible number of moving parts are depicted clearly, excitingly, and with visual panache.

Chicago Tribune

-

The script is just so-so, but Ball's directorial eye, clear in the first "Maze Runner" film though largely AWOL in the second, saves the third and final adventure from its own bloat.

Total Film

-

It's hardly fresh, but the spectacle is decent and the relationship dynamics absorb just enough to fill the lengthy run time.
Maze Runner: The Death Cure (2018)
Thomas leads his group of escaped Gladers on their final and most dangerous mission yet. To save their friends, they must break into the legendary Last City, a WCKD-controlled labyrinth that may turn out to be the deadliest maze of all. Anyone who makes it out alive will get answers to the questions the Gladers have been asking since they first arrived in the maze.