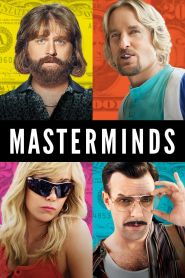 General Information
Glossary: M
Released Year: 2016
Runtime: 94 minutes
Genre: Action, Comedy, Crime
Directors: Jared Hess
Writers: Chris Bowman, Hubbel Palmer, Emily Spivey
Casts: Zach Galifianakis, Jason Sudeikis, Owen Wilson, Matt Corboy, Kristen Wiig, Kerry Rossall, Rhoda Griffis, Jay Amor, Kevin J. O'Connor, Leslie Jones, Nicole Michele Sobchack, Devin Ratray, Ken Marino, Wynn Reichert, Daniel Zacapa, Kathy Walton, Kelly Tippens, Josué Gutierrez, Barry J. Ratcliffe, Kate McKinnon, Shelton Grant, Andrea Alcorn, Jill Jane Clements, Danny Comden, Jon Daly, Diezel Ramos, Fred Galle, Kelly Borgnis, Chris Matheny, Marlo Scheitler, Njema Williams, Robert McRary, Mary Elizabeth Ellis, Karsten Friske, Dallas Edwards, Ross Kimball, Jordan Israel, Tyler Craig, Tom Werme, Nils Cruz, Michael Fraguada, Christian Gonzalez, Candace Blanchard, Laura Palka, Reegus Flenory, Joseph S. Wilson, Jee An, Vincent Garcia, Eizzil Cintrón Valenzuela, Anne Johnson, Timothy Timms, Beth Adams, Mandi Beers, Miller Carbon, John Carter, Bonnie Cole, David L. Craig, Tania Cuzmenco, Jason Michael Elliott, Cameron Feimster, Willie Tyrone Ferguson, Derwin Frank, Christopher Donald Gallagher, Brent Gribble, Keya Hamilton, Keith Paul Hunter, Jim Keisler, T.J. Lyell, Corey Maher, Gabriel Manak, Brenda Moss-Clifton, Allegra Nova, Paul Pillsbury, Joey Popp, William Cowboy Reed, David N. Russell, John Rutland, Wil Smith, Ron Stafford
IMDB: Masterminds (2016) - IMDB
Sponsored Links
Ratings
User Rating:
IMDB Rating:
5.8
Reviews
TheWrap

-

Masterminds is kinder to its characters than most comedies about the bumbling and under-educated, and that's Hess's strength.

Variety

-

It's this improv-ready ensemble's wit and Galifianakis' own gift for physical humor that account for most of the laugh-out-loud moments, heightened by silly flourishes so eccentric...they could only be found in a Jared Hess movie.

Charlotte Observer

-

Bits of welcome weirdness creep in, mainly through the too-brief character of Ghantt's intense fiancée (Kate McKinnon). But Hess has little time for wit.

Chicago Tribune

-

Masterminds still has its riotously funny moments, thanks to the fearless, uninhibited actors and a director who lets them play.

The Hollywood Reporter

-

At its playful best, the screenplay by Chris Bowman, Hubbel Palmer and Emily Spivey sends up crime-movie clichés with a light touch, and Hess shows uncharacteristic restraint in letting those moments play out without reaching for punchlines.
Masterminds (2016)
A night guard at an armored car company in the Southern U.S. organizes one of the biggest bank heists in American history.