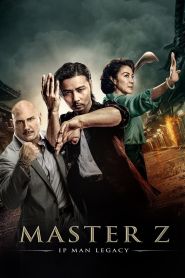 General Information
Glossary: M
Released Year: 2018
Runtime: 107 minutes
Genre: Action
Directors: Yuen Woo-ping
Casts: Michelle Yeoh, Yuen Wah, Xing Yu, Tony Jaa, Dave Bautista, Patrick Tam, Zhang Jin, Kevin Cheng, Chrissie Chau, Liu Yan, Brian Burrell
IMDB: Master Z Ip Man Legacy (2018)
Sponsored Links
Ratings
User Rating:
IMDB Rating:
6.5
Reviews
RogerEbert.com

-

So really, what's great about "Master Z" isn't the way that its creators transcend their chosen formula, but rather how they perfect it.

The Hollywood Reporter

-

The lush production design by Raymond Chan, Joyce Chan's swanky '60s costuming and some astoundingly clever set pieces — a duel between Tin-chi and one of Kit's thugs atop of a strip of neon signs, a brilliantly old-school four-way fight at Cheung Kok's offices, a whiskey glass tango with Yeoh — more than make up for any plot flaws, with the exception of the shameful underuse of Tony Jaa as a mysterious assassin.

The New York Times

-

A lively, fun one.

Philadelphia Daily News

-

Yeoh's fantastic as usual, making an impressive series of moves while not disturbing a single hair on her period Joey Heatherton hairdo.

Original-Cin

-

The studio set recreation of Hong Kong's famous Bar Street, along with the gaudily delectable costumes throughout, give Master Z a dreamy heightened artifice. More than once, the film seems on the verge of breaking into a vintage Hollywood musical.
Master Z Ip Man Legacy (2018)
After being defeated by Ip Man, Cheung Tin Chi is attempting to keep a low profile. While going about his business, he gets into a fight with a foreigner by the name of Davidson, who is a big boss behind the bar district. Tin Chi fights hard with Wing Chun and earns respect.