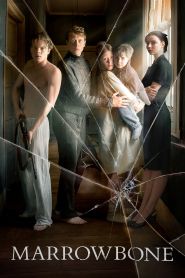 General Information
Glossary: M
Released Year: 2017
Runtime: 111 minutes
Genre: Drama, Horror, Thriller
Directors: Sergio G. Sánchez
Writers: Sergio G. Sánchez
Casts: George MacKay, Tom Fisher, Paul Jesson, Kyle Soller, Adam Quintero, Mia Goth, Charlie Heaton, Matthew Stagg, Anya Taylor-Joy, Nicola Harrison, Myra Kathryn Pearse, Robert Nairne, Laura Brook
IMDB: Marrowbone (2017) - IMDB
Sponsored Links
Ratings
User Rating:
IMDB Rating:
6.6
Reviews
The Verge

-

Too many films that rely on secrets stop being compelling once those secrets emerge. Marrowbone just becomes more compelling. It's one of the year's most immaculately crafted movies, and it's the kind of story that keeps dodging convention right up to the final shot. It fits neatly into the Gothic genre, but it innovates within it at the same time.

The Hollywood Reporter

-

Sanchez delivers a couple of very effective twists that change the nature of his tale.

Slant Magazine

-

An incessant deluge of subplots drowns what could have been a sparse and beautiful ghost story.

The Playlist

-

Handsomely shot, evocatively designed, solidly cast and terribly daft, it also presents your friendly neighborhood reviewer with something of a challenge. With what seems like almost premeditated skill, it saves its worst instincts for the backend of its convoluted and barely credible narrative, a good arm-and-a-half's-length beyond the impassible "spoiler wall."

Screen International

-

The directorial debut of Orphanage screenwriter Sergio G. Sánchez is powerfully frustrating, undone by an ornate storytelling style in which twists only beget more twists, all in service of some fairly obvious observations about guilt, self-deception and devotion.
Marrowbone (2017)
A young man and his four younger siblings are plagued by a sinister presence in the sprawling manor in which they live.