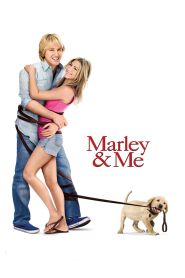 General Information
Glossary: M
Released Year: 2008
Runtime: 115 minutes
Genre: Comedy, Drama, Family, Romance
Directors: David Frankel
Casts: Jennifer Aniston, Owen Wilson, Haley Bennett, Nathan Gamble, Alan Arkin, Zabryna Guevara, Alec Mapa, Stephen Lee Davis, Eric Dane, Bryce Robinson, Tom Irwin, Ann Dowd, Haley Hudson, Finley Jacobsen, Clarke Peters, Sandy Martin, Ana Ayora, Kathleen Turner, Lucy Merriam, Ben Hyland, Sarah O'Kelly, Keith Hudson, Joyce Van Patten, Megan Grace, Haley Higgins, Matthew J. Walters, Nicole Herold, Paul Tei, Gaston Renaud, Angelina Assereto, Emmett Robin, Lisa Varga, Dylan Henry, Michael Baskin, Bradley Frishman, Eric Conger
IMDB: Marley & Me (2008)
Sponsored Links
Ratings
User Rating:
IMDB Rating:
7.1
Reviews
Entertainment Weekly

-

Wilson has a scene near the end with Marley that's the most wrenchingly tender acting of his career.

Chicago Sun-Times

-

When Marley is not on the screen, Wilson and Aniston demonstrate why they are gifted comic actors. They have a relationship that's not too sitcomish, not too sentimental, mostly smart and realistic.

ReelViews

-

It's an enjoyable and unpretentious perspective of life that reminds us how important and rewarding the little things can be.

Chicago Tribune

-

And then there's Alan Arkin, who, as John's editor, is hilarious and dry--it's frankly a shame he's not onscreen for every single scene.

The Hollywood Reporter

-

A warm and fuzzy family movie, but you do wish that at least once someone would upstage the dog.
Marley & Me (2008)
A newly married couple who, in the process of starting a family, learn many of life's important lessons from their trouble-loving retriever, Marley. Packed with plenty of laughs to lighten the load, the film explores the highs and lows of marriage, maturity and confronting one's own mortality, as seen through the lens of family life with a dog.