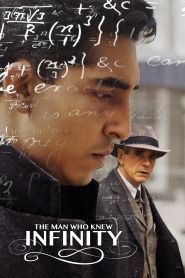 General Information
Glossary: T
Released Year: 2016
Runtime: 108 minutes
Genre: Biography, Drama
Directors: Matt Brown
Writers: Matt Brown
Casts: Toby Jones, Dev Patel, Enzo Cilenti, Jeremy Irons, Kevin McNally, Stephen Fry, Richard Cunningham, Malcolm Sinclair, Pádraic Delaney, Jeremy Northam, Elaine Caulfield, Shazad Latif, Devika Bhise, Anthony Calf
IMDB: The Man Who Knew Infinity (2015)
Sponsored Links
Ratings
User Rating:
IMDB Rating:
7.2
Reviews
The Film Stage

-

We aren't given this glorious journey of a genius plucked from obscurity as much as we are the trials and tribulations of success. Brown's film is all about the hardships thrust upon Ramanujan.

The A.V. Club

-

This is the very definition of the kind of movie people complain that "they" don't make anymore: a modestly budgeted, character-driven drama for adults that doesn't insult the viewer's intelligence or lean on shock value.

Screen International

-

The film is unashamedly middle-brow and sentimental but it tells such a good story that it is hard to resist.

The Telegraph

-

Irons's Hardy steals this film away from its ostensible hero, in part because pulling the shutters down makes him that much harder to know.

Empire

-

Well intentioned and played, this shows flashes of what could have been, but is ultimately let down by its timidity towards the maths, and fails to make the case for its own hero's greatness.
The Man Who Knew Infinity (2015)
Growing up poor in Madras, India, Srinivasa Ramanujan Iyengar earns admittance to Cambridge University during WWI, where he becomes a pioneer in mathematical theories with the guidance of his professor, G.H. Hardy.