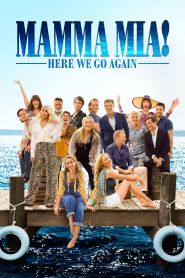 General Information
Glossary: M
Released Year: 2018
Runtime: 120 minutes
Genre: Comedy, Musical, Romance
Directors: Ol Parker
Writers: Richard Curtis, Ol Parker, Catherine Johnson
Casts: Andy García, Meryl Streep, Omid Djalili, Togo Igawa, Jeremy Irvine, Amanda Seyfried, Colin Firth, Cher, Julie Walters, Dominic Cooper, Celia Imrie, Christine Baranski, Stellan Skarsgård, Pierce Brosnan, Gino Picciano, Lily James, Hugh Skinner, Debra Leigh-Taylor, Duncan Smith, Gerard Monaco, Benny Andersson, Björn Ulvaeus, Maria Despina, Alexa Davies, Naoko Mori, Maria Vacratsis, Jane Fowler, Lampros Kalfuntzos, Josh Dylan, Dale Branston, Ava Brennan, Alexandra Ford, Jessica Keenan Wynn, Panos Mouzourakis, Anna Antoniades, Jonathan Goldsmith, Amelia O'Loughlin, Israel Ruiz, Natalia Campbell, Alim Jayda, Kathryn Akin, Constance Jérôme, Paul Adrien Ferré, Sarah Cortez, Sonia Dorado, Rodrig Andrisan
IMDB: Mamma Mia! Here We Go Again (2018)
Sponsored Links
Ratings
User Rating:
IMDB Rating:
7.1
Reviews
The Telegraph

-

The first film's very specific pleasures are comprehensively encored.

New York Post

-

In a nice change from Seyfried's 2008 turn as the ingénue, we want to befriend James' Donna, not mute her. She's as gorgeous as she is committed, as funny as she is emotionally true. A big talent.

Entertainment Weekly

-

A shiny-bright jukebox musical with a heart of gold and a plot of pure polyester, Mamma Mia! Here We Go Again works hard to be the feel-giddy movie experience of the summer. And it mostly succeeds in its own glittery, aggressively winsome way.

Variety

-

"Here We Go Again" is another kitsch patchwork; it's as if you were watching the CliffsNotes to an old studio weeper that happened to be carried along by some of the most luscious pop songs ever recorded. Yet the feeling comes through, especially at the end — a love poem to the primal bond of mothers and daughters.

Screen International

-

The template may remain essentially cheesy and the men still appear never to have experienced a dance floor. Yet it would be churlish to argue against a film of such smile-out-loud optimism.
Mamma Mia! Here We Go Again (2018)
Five years after meeting her three fathers, Sophie Sheridan prepares to open her mother's hotel. In 1979, young Donna Sheridan meets the men who each could be Sophie's biological father.