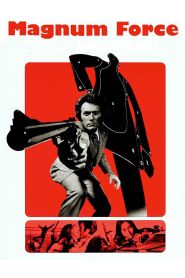 General Information
Glossary: M
Released Year: 1973
Runtime: 124 minutes
Genre: Action, Crime, Mystery, Thriller
Directors: Ted Post
Casts: Clint Eastwood, Philip Ettington, Felton Perry, Tim Matheson, Hal Holbrook, Suzanne Somers, Mitchell Ryan, David Soul, Margaret Avery, Carl Weathers, Albert Popwell, John Mitchum, Jack Kosslyn, Tony Giorgio, Kip Niven, Robert Urich, Christine White, Adele Yoshioka, Maurice Argent
IMDB: Magnum Force (1973)
Sponsored Links
Ratings
User Rating:
IMDB Rating:
7.2
Reviews
TV Guide Magazine

-

One of the more graphically violent movies ever made, Magnum Force is shatteringly effective.

Variety

-

The story contains the usual surfeit of human massacre for the yahoo trade, as well as a few actual thoughts.

Empire

-

This has grit coming out of its ears but not the greatest Eastwood feature by a long shot.

Film Threat

-

I have always been of the belief that the best way to get things done would be to have some benevolent dictator running things. The problem is always finding the right sage magician for the job. Harry Callahan probably wouldn't be my first choice, but he sure is entertaining when he shoots people.

Time Out

-

While never as disturbing as the first film, it fails to convince because of the turnaround in Harry's character, and because it posits in facile fashion degrees of taking the law into one's own hands: Harry's acceptable, the gun crazy kids aren't. That said, it has some fine action sequences, and is far less objectionable than the later Sudden Impact.
Magnum Force (1973)
"Dirty" Harry Callahan is a San Francisco Police Inspector on the trail of a group of rogue cops who have taken justice into their own hands. When shady characters are murdered one after another in grisly fashion, only Dirty Harry can stop them.