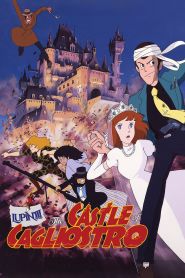 General Information
Glossary: L
Released Year: 1979
Runtime: 96 minutes
Genre: Adventure, Animation, Comedy, Crime
Directors: Hayao Miyazaki
Casts: Sumi Shimamoto, Ichirō Nagai, Gorō Naya, Kōhei Miyauchi, Eken Mine, Osamu Saka, Taro Ishida, Yasuo Yamada, Eiko Masuyama, Kiyoshi Kobayashi, Akio Nojima, Junkichi Yarita, Kinpei Azusa, Mikio Terashima, Minoru Midorikawa, Shigeharu Matsuda, Shozo Hirabayashi, Tadamichi Tsuneizumi, Yoko Yamaoka, Makio Inoue
IMDB: Lupin the Third: The Castle of Cagliostro (1979)
Sponsored Links
Ratings
User Rating:
IMDB Rating:
7.7
Reviews
IGN

-

If Spirited Away can be considered the top anime film of this age, Castle of Cagliostro is most certainly its age-old counterpart, and a true masterpiece.

The A.V. Club

-

This caper film possesses Miyazaki's usual good-hearted charm, but he injects a manically energetic humor that his more sedate children's films never quite achieve.

The New York Times

-

An interestingly wild hybrid of visual styles and cultural references.

The Seattle Times

-

Director Hayao Miyazaki brings a welcome sense of humor to this adventure story. [05 July 1991, p.16]

Los Angeles Times

-

An exciting, upbeat film, but not a very impressive example of the animator's art. [01 Feb 1989, p.8]
Lupin the Third: The Castle of Cagliostro (1979)
After a successful robbery leaves famed thief Lupin III and his partner Jigen with nothing but a large amount of fake money, the so called "Goat Bills", he decides to track down the counterfeiter responsible - and steal any other treasures he may find in the Castle of Cagliostro, including the 'damsel in distress' he finds imprisoned there.