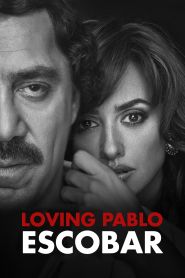 General Information
Glossary: L
Released Year: 2017
Runtime: 123 minutes
Genre: Biography, Crime, Drama
Directors: Fernando León de Aranoa
Writers: Fernando León de Aranoa
Casts: Penélope Cruz, Colin Salmon, Peter Sarsgaard, Atanas Srebrev, Javier Bardem, Óscar Jaenada, Emilia Klayn, Carlos Carvajal, Oscar Rodriguez, Ariel Sierra, Julio Nava, David Valencia, Mark Basnight, Lillian Blankenship, Nathan Cooper, Fredy Yate Escobar, Patrick Forster-Delmas, Julieth Restrepo, Joavany Alvarez, Matthew Moreno, David Ojalvo, Ricardo Niño, Pedro Calvo, Santiago Londoño, Juan Sebastián Calero, Quique Mendoza, Miguel Such, Carlos Ramírez, Tania Valencia, Erik Rodriguez, Sara Deray, Georgi Nikolov, Mihail Stoyanov, Andrew De La Rocha, Santiago Soto, Bernardo García, Simón Rivera, Carlos Manuel Vesga, Álvaro García, Catalina Londoño, Pedro Ochoa, Douglas Ceballos, Francisco Bolívar, Luis Fernando Hoyos, Juan Pablo Gamboa, Karine Amaya, Andrea Vidal, Heisel Mora, Alejandro Ruíz, Herbert King, Ricardo Vélez, Nicolas Gonzales, Hannah L'Hoeste, Manuel José Chaves, Giselle Da Silva, Juan David Agudelo, Nina Caicedo, Jorge Monterrosa, Juan Carlos Ortega, Santiago Lozano, Alberto Pablo Rivera, Juan Castillo, Cristian Rojas, Juan Sábato, Andrés Felipe Calero, Norma Nivia, Diego Landaeta, David Trejos, Jorge Alberto Reyes, Juan Angulo, Alexander Acosta-Osorio, Juan Vela, Mihail Rangelov, Plamen-Kaloyan Todorv, Philip Lind-Bendixen, Juan Camilo Castillo, Diana Wiswell
IMDB: Loving Pablo (2017)
Sponsored Links
Ratings
User Rating:
IMDB Rating:
6.3
Reviews
The Guardian

-

The film places a greater focus on the notion of unwilling complicity than most in the gangster genre, but still struggles to produce much original insight.

The Hollywood Reporter

-

Like flipping through the pages of a pulpy best-seller, watching Loving Pablo has its moments of guilty pleasure but leaves an empty feeling when you reach the end.

Screen International

-

The awkwardly executed English-language Loving Pablo is a brash but ultimately anonymous, sub-Scorsesean number from Spain's Fernando Leon de Aranoa.

Variety

-

Long, loud and lurid, with a distinct whiff of week-old quesito colombiano, Fernando Leon de Aranoa's pulpy Pablo Escobar biopic promises an alternative spin on familiar material by taking the perspective of the drug kingpin's glamorous journalist lover Virginia Vallejo. Yet she turns out to be as stock a presence as anyone else in this blood-spattered chunk of cartoon history.
Loving Pablo (2017)
The film chronicles the rise and fall of the world's most feared drug lord Pablo Escobar and his volatile love affair with Colombia's most famous journalist Virginia Vallejo throughout a reign of terror that tore a country apart.