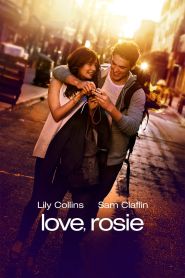 General Information
Glossary: L
Released Year: 2014
Runtime: 102 minutes
Genre: Comedy, Romance
Directors: Christian Ditter
Casts: Lily Collins, Jamie Beamish, Jaime Winstone, Sam Claflin, Tamsin Egerton, Suki Waterhouse, Ger Ryan, Art Parkinson, Christian Cooke, Lorcan Cranitch, Lily Laight, Matthew Dillon, Rosa Molloy, Sadbh Malin, Nick Lee, Ciaran McGlynn, Jusin Holmes, Max Cleary, Aaron Kinsella, Lara McDonnell, Beau Rose Garratt, Tom John Kelly, Tighe Wardell, David Crowley, Marion O'Dwyer, Róisín O'Donovan, Jake Manley
IMDB: Love, Rosie (2014)
Sponsored Links
Ratings
User Rating:
IMDB Rating:
7.2
Reviews
Variety

-

As appealingly humanized by Collins and Claflin, Rosie and Alex are sufficiently flawed, three-dimensional beings for their continued attachment to each other to convince.

Empire

-

Likeable leads and the odd good joke makes this romance an amiable time-passer.

Movie Nation

-

Collins ("Mirror Mirror") and Claflin, of the last "Pirates of the Caribbean" movie, do well by the mooning over each other across a crowded dance floor stuff. But they have to keep us believing in "the dream" and hoping for their romance. They don't.

The Playlist

-

Love, Rosie doesn't aspire to be anything more than a digestible rom-com trifle. It's a sweet movie about sweet people who are always sweet to each other and it's enough to make one sick on the saccharine.

The Dissolve

-

Unfortunately, the film frequently relies on telling over showing, and Rosie and Alex's bond is rarely demonstrated through palpable on-screen chemistry.
Love, Rosie (2014)
Since the moment they met at age 5, Rosie and Alex have been best friends, facing the highs and lows of growing up side by side. A fleeting shared moment, one missed opportunity, and the decisions that follow send their lives in completely different directions. As each navigates the complexities of life, love, and everything in between, they always find their way back to each other - but is it just friendship, or something more? Based on Cecelia Ahern's bestselling novel, LOVE, ROSIE is a heart-warming, modern comedy-of-errors posing the ultimate question: do we really only get one shot at true love?