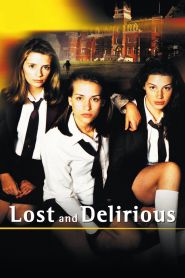 General Information
Glossary: L
Released Year: 2001
Runtime: 103 minutes
Genre: Drama, Romance
Directors: Léa Pool
Casts: Graham Greene, Emily VanCamp, Piper Perabo, Mimi Kuzyk, Alan Fawcett, Caroline Dhavernas, Jessica Paré, Luke Kirby, Mischa Barton, Jackie Burroughs, Grace Lynn Kung, Amy Stewart
IMDB: Lost and Delirious (2001)
Sponsored Links
Ratings
User Rating:
IMDB Rating:
7.0
Reviews
Chicago Sun-Times

-

This is a movie for those who sometimes, in the stillness of the sleepless night, are so filled with hope and longing that they feel like -- well, like uttering wild goat cries to the moon. You know who you are.

Miami Herald

-

Lost and Delirious doesn't need metaphors for the power of strength and healing. All the passion and pain it needs glows ferociously in the eyes of its young women.

San Francisco Chronicle

-

Pool captures the crazed urgency of first love -- the feeling of a passion so fierce that even a disapproving society can't crush it.

Entertainment Weekly

-

Evokes the intimacies of teenage girls with unusual delicacy, and Perabo's performance is a geyser of emotion.

New York Daily News

-

Sophisticated in that European way and predictable in that Hollywood way.
Lost and Delirious (2001)
Lost and Delirious is the story of three adolescent girls' first love, their discovery of sexual passion, and their search for identities. Set in a posh, private boarding school surrounded by luxuriant, green forest, Lost and Delirious moves swiftly from academic routine, homesickness, and girlish silliness to the darker region of lover's intrigue.