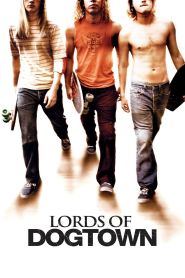 General Information
Glossary: L
Released Year: 2005
Runtime: 107 minutes
Genre: Biography, Drama, Sport
Directors: Catherine Hardwicke
Casts: Nikki Reed, Emile Hirsch, Sofía Vergara, William Mapother, Ned Bellamy, John Robinson, Bai Ling, Joel McHale, Jeremy Renner, Jeremy Renner, Laura Ramsey, Heath Ledger, Shea Whigham, Johnny Knoxville, Elden Henson, Tony Hawk, Vincent Laresca, Rebecca De Mornay, America Ferrera, Julio Oscar Mechoso, Matt Malloy, Michael Angarano, Pablo Schreiber, Mitch Hedberg, Victor Rasuk, Brian Zarate
IMDB: Lords of Dogtown (2005)
Sponsored Links
Ratings
User Rating:
IMDB Rating:
7.1
Reviews
Entertainment Weekly

-

Lords of Dogtown is a docudrama, rare in its grit and authenticity, that also strives for the mythical youth-rebel excitement of something like "8 Mile."

Rolling Stone

-

Hardwicke whips up a frenzy of crazy-cool board action, with Alva choreographing the stunts. Even when the slippery-slope-of-success cliches halt the film's momentum, the ready-to-rock actors rev it up again.

The Hollywood Reporter

-

Takes a surprisingly gritty approach that gives the material some gravitas but also robs it of some of its fun.

Village Voice

-

Hardwicke's pop-Cassavetes melodrama nevertheless rides as smoothly as a big-budget after-school special, capturing youth struggles from an appropriately blown-out teen's-eye perspective.

The A.V. Club

-

It's no surprise that when it ultimately tries to pluck at the heartstrings, it rings hollow. The film lives and dies by speed.
Lords of Dogtown (2005)
The film follows the surf and skateboarding trends that originated in Venice, California during the 1970s.