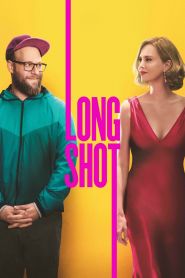 General Information
Glossary: L
Released Year: 2019
Runtime: 125 minutes
Genre: Comedy, Romance
Directors: Jonathan Levine
Casts: Andy Serkis, Seth Rogen, June Diane Raphael, Paul Scheer, Alexander Skarsgård, Charlize Theron, Randall Park, Lisa Kudrow, Bob Odenkirk, Ravi Patel, Tristan D. Lalla, Claudia O'Doherty, O'Shea Jackson Jr., Boys II Men, Lil Yachty, Kurt Braunohler, Gabrielle Graham
IMDB: Long Shot (2019)
Sponsored Links
Ratings
User Rating:
IMDB Rating:
7.0
Reviews
Consequence of Sound

-

Long Shot is a major win for Levine, Rogen, and Theron, who defied the odds to deliver an instantly re-watchable hit. It's sexy, it's funny, it's smart, it's topical, and, above all, it's exactly what some people need right now.

The Playlist

-

It's a consistent laugh out loud comedy with a big heart that should please all kinds of audiences (and the rare rom-com aimed at both women and men and not just either or). "Long Shot" isn't your typical Seth Rogen stoner comedy (not that those aren't great) and is all the better for it.

IGN

-

Charlize Theron and Seth Rogen transform Long Shot's familiar rom-com story into a memorable and funny movie.

The Guardian

-

With a giddy irreverence and a cavalcade of stupendous comedic performers, Long Shot is outrageously funny.

TheWrap

-

Even with a completely unrealistic premise, and a handful of trope problems, Long Shot is still charming enough to bring the laughs, the escapism, and the twitterpation that any great romantic comedy can provide.
Long Shot (2019)
Fred Flarsky is a gifted and free-spirited journalist who has a knack for getting into trouble. Charlotte Field is one of the most influential women in the world -- a smart, sophisticated and accomplished politician. When Fred unexpectedly runs into Charlotte, he soon realizes that she was his former baby sitter and childhood crush. When Charlotte decides to make a run for the presidency, she impulsively hires Fred as her speechwriter -- much to the dismay of her trusted advisers.