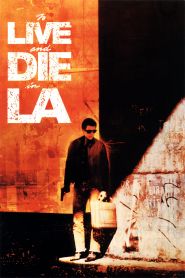 General Information
Glossary: T
Released Year: 1985
Runtime: 116 minutes
Genre: Action, Crime, Drama, Thriller
Directors: William Friedkin
Casts: Robert Downey Sr., Gary Cole, John Turturro, Willem Dafoe, John Pankow, Dwier Brown, Steve James, Michael Greene, William Petersen, Dean Stockwell, Darlanne Fluegel, Valentin de Vargas, Michael Chong, Debra Feuer, Christopher Allport, Jacqueline Giroux
IMDB: To Live and Die in L.A. (1985)
Sponsored Links
Ratings
User Rating:
IMDB Rating:
7.3
Reviews
Chicago Sun-Times

-

In the hierarchy of great movie chase sequences, the recent landmarks include the chases under the Brooklyn elevated tracks in "The French Connection" down the hills of San Francisco in "Bullitt" and through the Paris Metro in "Diva." Those chases were not only thrilling in their own right, but they also reflected the essence of the cities where they took place. Now comes William Friedkin, director of "The French Connection," with a new movie that contains another chase that belongs on that short list.

Slant Magazine

-

To Live and Die in L.A. exhibits a remarkable degree of kineticism, evident in several memorable chase sequences, the film's headlong momentum abetted by Wang Chung's dynamic score.

Village Voice

-

A near-masterpiece. The fashions and music and attitudes on display might have been interpreted at the time as opportunistic stabs at au courant stylization, but the film is nevertheless overpowering and otherworldly rather than quaint or kitschy. It feels like a transmission from a different planet. To Live and Die in L.A. is so of its time that you can only be captivated by it.

San Francisco Examiner

-

To Live and Die in L.A. is as urgent and exhilaratingly paced as anything William Friedkin's done.

The New York Times

-

To Live and Die in L.A. is Mr. Friedkin at his glossiest, a great-looking, riveting movie without an iota of warmth or soul. On its own terms, it's a considerable success, though it's a film that sacrifices everything in the interests of style.
To Live and Die in L.A. (1985)
A fearless Secret Service agent will stop at nothing to bring down the counterfeiter who killed his partner.