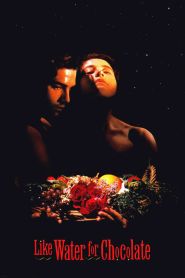 General Information
Glossary: L
Released Year: 1992
Runtime: 105 minutes
Genre: Drama, Romance
Directors: Alfonso Aráu
Casts: Joaquín Garrido, Marco Leonardi, Arcelia Ramírez, Yareli Arizmendi, Margarita Isabel, Mario Iván Martínez, Lumi Cavazos, Regina Torné, Ada Carrasco, Claudette Maillé, Pilar Aranda, Rodolfo Arias, Farnesio de Bernal, Sandra Arau, Andrés García Jr.
IMDB: Like Water for Chocolate (1992)
Sponsored Links
Ratings
User Rating:
IMDB Rating:
7.2
Reviews
Chicago Sun-Times

-

Like Water for Chocolate creates its own intense world of passion and romance, and adds a little comedy and a lot of quail, garlic, honey, chiles, mole, cilantro, rose petals and corn meal.

Washington Post

-

The title may be a mouthful but Like Water for Chocolate is a feast for the soul. Hauntingly and exquisitely prepared, this Mexican adult fairy tale is garnished with mystery and wonder.

The New York Times

-

Food and passion create a sublime alchemy in Like Water for Chocolate, a Mexican film whose characters experience life so intensely that they sometimes literally smolder.

Austin Chronicle

-

Like Water for Chocolate, a simmering cauldron of romance and revolution, passion and purity, mysticism and witticism, is a powerful and heady brew.

Empire

-

An enchanting story played out by a great female cast, particularly Cavazos as the poor Tita, and unique visuals from Arau. With equal parts melodrama, comedy, tragedy and cookery, Like Water For Chocolate adapts well from script to screen, unlike most Hollywood attempts.
Like Water for Chocolate (1992)
Tita is passionately in love with Pedro, but her controlling mother forbids her from marrying him. When Pedro marries her sister, Tita throws herself into her cooking and discovers she can transfer her emotions through the food she prepares, infecting all who eat it with her intense heartbreak.