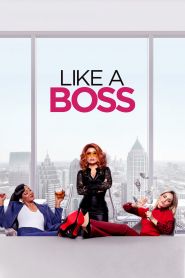 General Information
Glossary: L
Released Year: 2020
Runtime: 83 minutes
Genre: Comedy
Directors: Miguel Arteta
Writers: Sam Pitman, Adam Cole-Kelly
Casts: Salma Hayek, Ari Graynor, Jennifer Coolidge, Rose Byrne, Jessica St. Clair, Lisa Kudrow, Tiffany Haddish, Karan Soni, Ryan Hansen, Jimmy O. Yang, Jacob Latimore, Katie Parker, Natasha Rothwell, Caroline Arapoglou, Billy Porter, Brittany Guess, Melissa Saint-Amand, Emma Coulter, Veronica Merrell, Vanessa Merrell
IMDB: Like a Boss (2020)
Sponsored Links
Ratings
User Rating:
IMDB Rating:
4.4
Reviews
Variety

-

Its economic message might be fuzzy. Its feminism, too. But best-friend comedy Like a Boss rides Tiffany Haddish and Rose Byrnes's frisky and believable chemistry to laughs — some worn, some crude, but more than a few delivered deftly and consistently enough to keep audiences smiling if not doubled over.

New York Post

-

Thankfully, director Miguel Arteta ("Beatriz at Dinner") gets a solid half-hour of funny out of this thing before clunkiness sets in.

Screen Rant

-

There's a real sweetness at the center of the film, but Like A Boss surrounds that heart with middling raunch comedy.

The Hollywood Reporter

-

Quite funny for much of its running time, the film feels like it simply runs out of steam in its third act, settling for a lazy, pandering resolution and seeming happy to have made it to the 83-minute finish line.

The A.V. Club

-

If you're looking for something truly groundbreaking—or hilarious—Like A Boss isn't it.
Like a Boss (2020)
Two female friends with very different ideals decide to start a beauty company together. One is more practical, while the other wants to earn her fortune and live a lavish lifestyle.