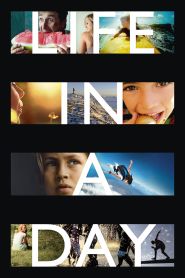 General Information
Glossary: L
Released Year: 2011
Runtime: 95 minutes
Genre: Documentary, Drama
Directors: Kevin Macdonald, Zillah Bowes
Casts: Cindy Baer, Moica, Caryn Waechter, Drake Shannon
IMDB: Life in a Day (2011)
Sponsored Links
Ratings
User Rating:
IMDB Rating:
7.7
Reviews
Washington Post

-

Life in a Day is, without exaggeration, a profound achievement.

Entertainment Weekly

-

It's our equivalent of that '80s art-film kaleidoscope "Koyaanisqatsi."

Empire

-

Moving and insightful. Not a classic by any means, but a fascinating glimpse of the way we live today.

The Hollywood Reporter

-

Life in a Day is an experimental project driven by the Internet at its best, where connectivity among the planet's population has become a reality.

Time Out

-

Life really sings when it's simply pulling together thematic montages - of waking up, food preparation or answers to the question "What do you fear?" - or letting a genuine moment unfold without comment.
Life in a Day (2011)
A documentary shot by filmmakers all over the world that serves as a time capsule to show future generations what it was like to be alive on the 24th of July, 2010.