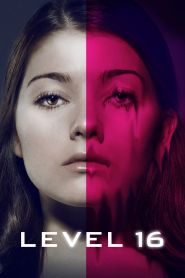 General Information
Glossary: L
Released Year: 2018
Runtime: 102 minutes
Genre: Sci-Fi, Thriller
Directors: Danishka Esterhazy
Writers: Danishka Esterhazy
Casts: Peter Outerbridge, Katie Douglas, Kiana Madeira, James Purcell, Alex Steele, Sara Canning, Vladimir Tsyglian, Celina Martin, Alexis Whelan, Amalia Williamson, Josette Halpert, Kate Vickery, Sydney Meyer, Joelle Farrow, Sarah DaSilva, Lori Phun, Val Ovtcharov, Marie Carriere Gleason, Birva Pandya, Kiana Chartrand, Yasmin Lau, Kayleigh Shikanai, Margaret Maye, Leo Vernik, Voytek Skrzeta, Jack von Spade
IMDB: Level 16 (2018)
Sponsored Links
Ratings
User Rating:
IMDB Rating:
5.9
Reviews
Original-Cin

-

At its least, Level 16 ranks as a very good episode of Black Mirror but at its best, it succeeds as a hybrid of the kind of dystopic paranoia we get from Margaret Atwood's Handmaid's Tale with touches of sanitized malevolence from Stanley Kubrick.

The Hollywood Reporter

-

Initial hints of a "Mean Girls"-meets-"Lord of the Flies" complication don't come to much in this straightforward pic, which will be zeitgeisty enough for some viewers while leaving most wanting something a bit more imaginative.

The Globe and Mail (Toronto)

-

The look of the film is sterile and monochromatic, as is the acting and the mood. And while fans of the genre will absolutely appreciate the surreal gloom, for most others Level 16 will come in at a level below an average "Twilight Zone" episode.

Austin Chronicle

-

Level 16 is a mystery horror that gets darker as it unravels.

Los Angeles Times

-

As it sputters toward its curtain-exposing conclusion, "Level 16" stays disappointingly thin, both as a dark-future cautionary saga and a genre exercise.
Level 16 (2018)
The teenage girls of Vestalis Academy are meticulously trained in the art of being "clean girls," practicing the virtues of perfect femininity. But what exactly are they being trained for? Vivien intends to find out.