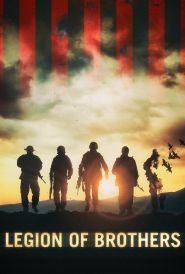 General Information
Glossary: L
Released Year: 2017
Runtime: 79 minutes
Genre: Documentary, War
Directors: Greg Barker
Casts: George W. Bush, Jason Amerine, Mark Nutsch
IMDB: Legion of Brothers (2017)
Sponsored Links
Ratings
User Rating:
IMDB Rating:
5.7
Reviews
Variety

-

Its up-close portrait of heroic dedication in extreme situations has the dramatic immediacy and air of privileged access to impress both hawks and doves.

Village Voice

-

It's clear in their eyes that they've seen some shit—and this doc not only gives us a glimpse of it too, but adds valuable context in a way not many others do.

The Hollywood Reporter

-

One of the more effective entries in what has essentially become a documentary subgenre, the film focuses on the surviving Green Berets who recall their experiences with a combination of pride and sorrow.

Los Angeles Times

-

Looking at combat from all sides, examining the pride, the anger and the regrets, is what this fine documentary is all about.

The New York Times

-

You'll have to wade through several topics to get to the heart of Legion of Brothers, but once you're there, some intense stories make the effort worthwhile.
Legion of Brothers (2017)
Afghanistan, immediately post-9/11: Small teams of Green Berets arrive on a series of secret missions to overthrow the Taliban. What happens next is equal parts war origin story and cautionary tale, illuminating the nature and impact of 15 years of constant combat, with unprecedented access to U.S. Special Forces.