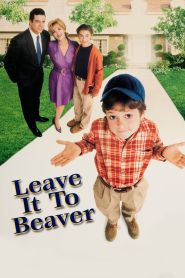 General Information
Glossary: L
Released Year: 1997
Runtime: 84 minutes
Genre: Adventure, Comedy, Drama, Family
Directors: Andy Cadiff
Writers: Joe Connelly
Casts: Geoff Pierson, Christopher McDonald, Erik von Detten, Erika Christensen, Cameron Finley, Alan Rachins, Janine Turner, Adam Zolotin, Grace Phillips
IMDB: Leave It to Beaver (1997)
Sponsored Links
Ratings
User Rating:
IMDB Rating:
5.2
Reviews
Chicago Sun-Times

-

I was surprised to find myself seduced by the film's simple, sweet story, and amused by the sly indications that the Cleavers don't live in the 1950s anymore.

Miami Herald

-

Director Andy Cadiff and screenwriters Brian Levant and Lon Diamond have made a Leave It to Beaver that everyone can love. [22 Aug 1997, p.10G]

Orlando Sentinel

-

It moves along briskly and lightly, leaving little trace and doing no serious damage to boomer memories. [22 Aug 1997, p.19]

The New York Times

-

Leave It to Beaver is the sort of movie that could be described as good clean fun if it happened to be good or fun.

Variety

-

Fuzzily conceived and blandly executed, Leave It to Beaver is neither fish nor fowl. Not exactly a straight-faced homage to the classic TV series, but far short of an outright parody, this exceedingly mild comedy plays like the product of a committee that never reached a consensus on which direction to take.
Leave It to Beaver (1997)
Cleavers are an all-American family living in Ohio - wise father Ward, loving mother June, teen-age son Wally and 8-year-old "Beaver" Theodore. Beaver hopes to get a bike as a gift from his father and to please him tries out for his school football team and he makes it, only to be embarrassed. The bike he gets is quickly stolen. Meanwhile Wally is trying to help his friend Eddie Haskell to get the heart of pretty classmate Karen, but Karen seems to like Wally more, and that leads to tensions between the friends.