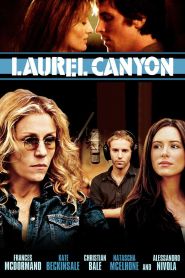 General Information
Glossary: L
Released Year: 2003
Runtime: 103 minutes
Genre: Drama
Directors: Lisa Cholodenko
Casts: Kate Beckinsale, Philip Pavel, Catherine McGoohan, Frances McDormand, Christian Bale, Alessandro Nivola, Rick Gonzalez, Natascha McElhone, Melissa De Sousa, Heidi Sulzman, Lou Barlow, Russell Pollard, Imaad Wasif, Mickey Petralia, Alexandra Carter, Michelle DeMirjian, Marcus Ashley, Dennis Howard, Catharine Scott, Nick Kiriazis, Gina Doctor
IMDB: Laurel Canyon (2003)
Sponsored Links
Ratings
User Rating:
IMDB Rating:
6.4
Reviews
The New York Times

-

Reconfirms the filmmaker's talent as an acutely observant chronicler of upscale bohemian subcultures.

Christian Science Monitor

-

The story of Laurel Canyon doesn't ultimately live up to the technical polish Cholodenko brings to it, but it's worth a visit if you want to check out the latest emotional vibes emanating from the Hollywood Hills.

New York Post

-

Bale, one of the most intriguing actors of his generation, plays a young man rebelling against his liberal upbringing with a mix of bemusement and lost-puppy anguish, making this film as much about mothers and sons as struggling couples.

Seattle Post-Intelligencer

-

The cast is as likable as it is improbable (especially Nivola, who all but steals the movie as the charmingly decadent rocker).

Washington Post

-

McDormand is the best thing about Laurel Canyon. She's also the most unfortunate victim of a film that seems unable or unwilling to give even its most intriguing and compulsively watchable character her due.
Laurel Canyon (2003)
Laurel Canyon focuses on Sam and Alex, a pair of upper-middle class lovebirds from the East Coast who relocate to Los Angeles. Enter Jane, Sam's estranged mother, a successful record producer, who's more than willing to put the couple up in her lavish digs. As Sam and Alex settle in at Jane's, they gradually lose their straight-and-narrow approach to life and begin to experiment.