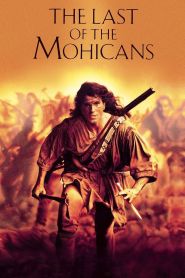 General Information
Glossary: T
Released Year: 1992
Runtime: 112 minutes
Genre: Action, Adventure, Drama, Romance, War
Directors: Michael Mann
Casts: Pete Postlethwaite, Jodhi May, Madeleine Stowe, Daniel Day-Lewis, Wes Studi, Steven Waddington, Terry Kinney, Tracey Ellis, Maurice Roeves, Russell Means, Eric Schweig, Edward Blatchford, Patrice Chéreau, Justin M. Rice, Dennis Banks
IMDB: The Last of the Mohicans (1992) - IMDB
Sponsored Links
Ratings
User Rating:
IMDB Rating:
7.8
Reviews
ReelViews

-

Bold and stirring with impeccable production values, The Last of the Mohicans is a memorable motion picture adventure, and one of the best films of the year.

The Hollywood Reporter

-

The story, the acting, the cinematography are all so potent that they overwhelm us in the best way possible. The violence is brutal and graphic, yet compelling. [23 Sep 1992]

Entertainment Weekly

-

The first hour of The Last of the Mohicans plays like a convoluted history lesson. I appreciate that Mann has enough respect for the audience's intelligence to sketch in this briar patch of conflicting loyalties. But he outlines the interlocking factions without really making it clear, in dramatic terms, what each one stands for.

Newsweek

-

When this historical adventure kicks in, it's thrilling in the way old-fashioned epics used to be, but its romanticism has a fierce, violent physicality that gives it a distinctively modern stamp.

Variety

-

[The Last of the Mohicans] blends pure adventure with a compelling central romance.
The Last of the Mohicans (1992)
As the British and French soldiers battle for control of the American colonies in the 18th century, the settlers and native Americans are forced to take sides. Cora and her sister Alice unwittingly walk into trouble but are reluctantly saved by Hawkeye, an orphaned settler adopted by the last of the Mohicans.