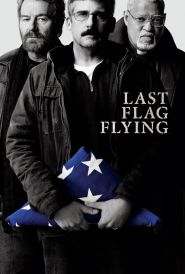 General Information
Glossary: L
Released Year: 2017
Runtime: 124 minutes
Genre: Comedy, Drama, War
Directors: Richard Linklater
Casts: Laurence Fishburne, Bryan Cranston, Steve Carell, Richard Barlow, Cicely Tyson, Yul Vazquez, Kate Easton, Richard Robichaux, Jerry Lee Tucker, Jane Mowder, Dontez James, J. Quinton Johnson, Deanna Reed-Foster, Jeff Monahan, Tammy Tsai, Lee Harrington, Graham Wolfe, Ted Watts Jr., Cathy O'Dell
IMDB: Last Flag Flying (2017)
Sponsored Links
Ratings
User Rating:
IMDB Rating:
6.9
Reviews
Slate

-

This movie's strength lies in its gentleness just as its wisdom lies in its willingness to get extravagantly silly. Richard Linklater is one of the best directors going, and Last Flag Flying shows his talents in the full flower of their maturity.

IndieWire

-

Above all, Last Flag Flying illustrates a fascinating link between Ashby and Linklater, two filmmakers from different eras who both explore American society's capacity to alienate the same people contributing to its identity. That gloomy proposition finds a fresh tone in Linklater's hands, where angry, disillusioned people still manage to find room to laugh.

Slant Magazine

-

Last Flag Flying is colored by how time reshapes our sense of self, embracing some memories while occluding others, and the film ingeniously folds the viewer into a similar state of reflection and uncertainty about previous eras of false optimism about national values.

The Playlist

-

In its deeply affecting final moments, where Linklater beautifully folds the movie's threads and themes, Last Flag Flying coalesces into a poignant portrait of honor, the bonds of brotherhood and coming to terms with mortality.

New York Magazine (Vulture)

-

It's in the uncertainties and dissonances of Last Flag Flying that Linklater's humanism really expresses itself. Three men of vastly different values and temperaments come alive in the shared understanding that their losses were for nothing. And that shared understanding is something.
Last Flag Flying (2017)
Thirty years after serving together in the Vietnam War, Larry "Doc" Shepherd, Sal Nealon and the Rev. Richard Mueller reunite for a different type of mission: to bury Doc's son, a young Marine killed in Iraq. Forgoing burial at Arlington National Cemetery, Doc and his old buddies take the casket on a bittersweet trip up the coast to New Hampshire. Along the way, the three men find themselves reminiscing and coming to terms with the shared memories of a war that continues to shape their lives.