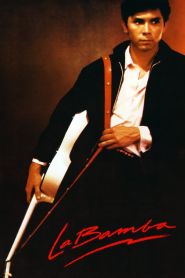 General Information
Glossary: L
Released Year: 1987
Runtime: 108 minutes
Genre: Biography, Drama, Music
Directors: Luis Valdez
Writers: Luis Valdez
Casts: Thomas Rosales, Jr., Sam Anderson, Elizabeth Peña, Joe Pantoliano, Mike Moroff, Noble Willingham, Geoffrey Rivas, Dyana Ortelli, Esai Morales, Tony Genaro, Mary Ann Tanedo, Lou Diamond Phillips, Rosanna DeSoto, Stephen Lee, Danielle von Zerneck, Rick Dees, Marshall Crenshaw, Brian Setzer, Daniel Valdez, Howard Huntsberry, Felipe Cantu, Eddie Frias, Maggie Gwinn, Jeffrey Alan Chandler, John Quade, Lettie Ibarra, Diane Rodriguez, Katie Valdez, Gloria Balcorta, Ernesto Hernández, Thom Pintello, Stephen F. Schmidt, Rosanna Locke, Kim Sebastian, Andy Griggs, Art K. Koustik, Allison Robinson, Hunter Payne, Joe Miller, Barb Jittner, Brian Russell, Yolanda Martinez Olivarri, Frank Aragon, Linda Holdahl, Matthew Shields, Reynaldo Silva, Connie Valenzuela
IMDB: La Bamba (1987)
Sponsored Links
Ratings
User Rating:
IMDB Rating:
6.8
Reviews
Chicago Sun-Times

-

This is a good small movie, sweet and sentimental, about a kid who never really got a chance to show his stuff. The best things in it are the most unexpected things: the portraits of everyday life, of a loving mother, of a brother who loves and resents him, of a kid growing up and tasting fame and leaving everyone standing around at his funeral shocked that his life ended just as it seemed to be beginning.

Chicago Tribune

-

As played by the smooth-faced, cheerful Lou Diamond Phillips, there seems to be something almost supernatural about the young man of La Bamba. He's a chosen one, and his rise to the top will be swift and smooth. If only he could shake those nightmares about a crashing plane . . . . [24 July 1987, p.A]

The New York Times

-

A film like this is quite naturally a showcase for its star, and as Valens, Lou Diamond Phillips has a sweetness and sincerity that in no way diminish the toughness of his onstage persona.

Los Angeles Times

-

There is the music, however, great dollops of '50s songs, and it lifts the movie when the dialogue and the earnest-but-uninspired direction keeps it earthbound.

Miami Herald

-

Though the filmmakers have clearly done their homework, and clearly care, they don't find much remarkable in the story of Ritchie Valens. Even given the short life at hand, La Bamba is as schematic and predictable as it is likable. [24 July 1987, p.D1]
La Bamba (1987)
Biographical story of the rise from nowhere of singer Ritchie Valens whose life was cut short by a plane crash.