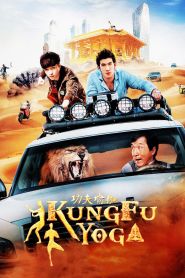 General Information
Glossary: K
Released Year: 2017
Runtime: 130 minutes
Genre: Action, Adventure, Comedy, Mystery
Directors: Stanley Tong
Casts: Jackie Chan, Eric Tsang, Kevin Lee, Paul Philip Clark, David Torok, Damian Mavis, Tomer Oz, Aarif Lee, Joel Adrian, Sonu Sood, Eskindir Tesfay, Miya Muqi, Sajjad Delafrooz, Disha Patani, Amyra Dastur, Zhang Yixing, Zhang Guoli, Temur Mamisashvili, Fatih Ugurlu, Paul Allica, Darren Grosvenor, Adam Stone, Erika Herbert
IMDB: Kung Fu Yoga (2017)
Sponsored Links
Ratings
User Rating:
IMDB Rating:
5.2
Reviews
Village Voice

-

Kung Fu Yoga is a proudly silly cultural melting pot in which kung fu and Bollywood meet amicably.

The Hollywood Reporter

-

A good-natured cross-cultural romp in which you can barely be expected to take any human interaction seriously, save for those in which humans smack up against each other with force.

Los Angeles Times

-

By the time it all culminates in a Chan-led classic Bollywood production number, the cuteness factor may have been pushed to its limit, but good luck trying to stop that goofy smile from spreading across your face.

Variety

-

As the leading man, Chan keeps the ball rolling with an assortment of neat acrobatic tricks and martial arts sparring, but his days of life-risking physical exertion is over.

The A.V. Club

-

The absence of necessity or consistency has its appeal; it guarantees that the movie stays unpredictable even as it pilfers shamelessly, piling cliché upon cliché, but rarely in a way that makes a lick of sense.
Kung Fu Yoga (2017)
Chinese archeology professor Jack teams up with beautiful Indian professor Ashmita and assistant Kyra to locate lost Magadha treasure. In a Tibetan ice cave, they find the remains of the royal army that had vanished together with the treasure, only to be ambushed by Randall, the descendent of a rebel army leader. When they free themselves, their next stop is Dubai where a diamond from the ice cave is to be auctioned. After a series of double-crosses and revelations about their past, Jack and his team travel to a mountain temple in India, using the diamond as a key to unlock the real treasure.