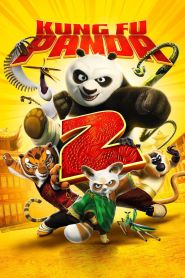 General Information
Glossary: K
Released Year: 2011
Runtime: 91 minutes
Genre: Action, Adventure, Animation, Comedy, Family
Directors: Jennifer Yuh Nelson
Casts: Conrad Vernon, Shane Glick, Seth Rogen, Jean-Claude Van Damme, Jack Black, Angelina Jolie, Dustin Hoffman, Gary Oldman, Jackie Chan, Lucy Liu, David Cross, Michelle Yeoh, James Hong, Danny McBride, Dennis Haysbert, Victor Garber, Mike Bell, Jason Bertsch, Michael DeMaio, Lena Golia, April Hong, Joseph Izzo, Alexandra Gold Jourden, Stephen Kearin, Liam Knight, Paul Mazursky, Dan O'Connor, Jeremy Shipp, Maury Sterling, Fred Tatasciore, Lauren Tom, Romy Rosemont
IMDB: Kung Fu Panda 2 (2011)
Sponsored Links
Ratings
User Rating:
IMDB Rating:
7.2
Reviews
Tampa Bay Times

-

Part two is even more gorgeous to behold, and deeper in substance.

The Hollywood Reporter

-

It all moves along briskly, with a degree of visual grace and a solid feel for 3D.

Variety

-

Once again, the DreamWorks team demonstrates that humor is the primary weapon in its arsenal.

Entertainment Weekly

-

At times, Kung Fu Panda 2 suggests "Bambi" redone as an episode of Oprah. Yet it's a more-than-worthy sequel.

Village Voice

-

Jennifer Yuh Nelson's sequel delivers a bevy of superpowered set pieces that are dexterous and delirious, as well as tonally confident.
Kung Fu Panda 2 (2011)
Po is now living his dream as The Dragon Warrior, protecting the Valley of Peace alongside his friends and fellow kung fu masters, The Furious Five - Tigress, Crane, Mantis, Viper and Monkey. But Po's new life of awesomeness is threatened by the emergence of a formidable villain, who plans to use a secret, unstoppable weapon to conquer China and destroy kung fu. It is up to Po and The Furious Five to journey across China to face this threat and vanquish it. But how can Po stop a weapon that can stop kung fu? He must look to his past and uncover the secrets of his mysterious origins; only then will he be able to unlock the strength he needs to succeed.