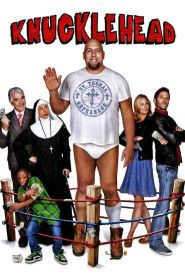 General Information
Glossary: K
Released Year: 2010
Runtime: 100 minutes
Genre: Comedy, Drama
Directors: Michael W. Watkins
Writers: Adam Rifkin, Bear Aderhold, Tom Sullivan
Casts: Spice Williams-Crosby, Will Patton, Dennis Farina, Joe Chrest, Lester Speight, Wendie Malick, Carol Sutton, Lara Grice, Douglas M. Griffin, Lurie Poston, Mark Feuerstein, Lance E. Nichols, Anthony Michael Frederick, Saul Rubinek, Melora Hardin, Bobb'e J. Thompson, Wayne Ferrara, Rebecca Creskoff, Paul Wight, Jake Austin Walker, Shane Partlow, Kurt Doss, Jesse James Youngblood
IMDB: Knucklehead (2010)
Sponsored Links
Ratings
User Rating:
IMDB Rating:
5.2
Reviews
Variety

-

Knucklehead has a professional slickness about it, flawless shooting by d.p. Kenneth Zunder, and Johnston's perfectly cloying score. The acting leaves a bit to be desired: Malick is hilarious; Wight is endearing; Rebecca Creskoff ("Hung"), who plays Mary's friend and fellow ex-"dancer," is refreshingly natural.

The New York Times

-

A number of talented performers are stymied by this mediocre material.

Orlando Sentinel

-

Director Michael W. Watkins, whose decades of TV credits go back to "Quantum Leap," manages one clever visual gag - a bus wreck, observed from the far side of a cornfield. We hear a crunch, see a telephone pole wobble and a little puff of smoke. Then Watkins blows the moment with a fiery overkill.

The Hollywood Reporter

-

This lame comedy about a big doofus who enters the fight game manages to take every cliche in the book and render them even more cliched.

New York Post

-

A 2010 movie that could have been made in 1940.
Knucklehead (2010)
The film centers on a fight promoter (Mark Feuerstein) deeply in debt to his crooked rival. Desperate for a new fighter that will help him win back everything he owes, the promoter catches a break when a 450-pound church handyman (Paul "Big Show" Wight) who has spent his entire life in an orphanage agrees to wrestle on behalf of his fellow orphans.