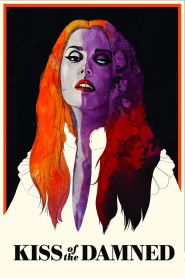 General Information
Glossary: K
Released Year: 2012
Runtime: 95 minutes
Genre: Drama, Horror, Romance
Directors: Xan Cassavetes
Writers: Xan Cassavetes
Casts: Milo Ventimiglia, Joséphine de la Baume, Michael Rapaport, Riley Keough, Alexia Landeau, Juan Luis Acevedo, Chris Meyer, Roxane Mesquida, Peter Vack, Caitlin Keats, Anna Mouglalis, Ching Valdes-Aran, Jay Brannan, Jonathan Caouette, Stephen Winter
IMDB: Kiss of the Damned (2012)
Sponsored Links
Ratings
User Rating:
IMDB Rating:
5.6
Reviews
The Playlist

-

If Kiss of the Damned has one thing, it's an identifiable groove, one that is sustained and very, very infectious.

Variety

-

Saucily thumbing its nose at the insipid teen love of the "Twilight" franchise, Kiss reimagines its bloodsuckers as horny, supercilious Eurotrash with addiction issues, sucking the life blood from naive American thrill-seekers.

The A.V. Club

-

Like a lot of the retro-horror films that have popped up on the art-house and festival circuits over the past several years, Xan Cassavetes' Kiss Of The Damned is more about mood and texture than plot.

Time Out

-

Cassavetes adopts a grammar that occasionally slides into parody but mostly comes across as committed style. Kiss of the Damned contributes little new to the genre save a taste for alluringly tactile sex scenes and an avoidance of gore.

Los Angeles Times

-

The confident, female-driven sensuality of Kiss of the Damned anchors this handsome nonsense.
Kiss of the Damned (2012)
Beautiful vampire Djuna tries to resist the advances of the handsome, human screenwriter Paolo, but eventually gives in to their passion. When her seductive and highly volatile sister Mimi unexpectedly comes to visit, she threatens Djuna's new relationship, and the whole vampire community becomes endangered.