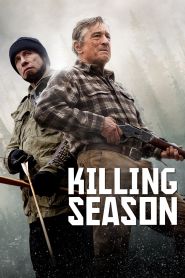 General Information
Glossary: K
Released Year: 2013
Runtime: 91 minutes
Genre: Action, Drama, Thriller, War
Directors: Mark Steven Johnson
Writers: Evan Daugherty
Casts: John Travolta, Milo Ventimiglia, Robert De Niro, Stefan Shterev, Elizabeth Olin, Diana Lyubenova, Kalin Sarmenov
IMDB: Killing Season (2013)
Sponsored Links
Ratings
User Rating:
IMDB Rating:
5.4
Reviews
IndieWire

-

Killing Season is like the Saturday morning cartoon version of a terrible movie: still bad, but at least colorful enough to go down easy.

The A.V. Club

-

With casting this unconvincing, no one is watching to get a lesson in the horrors of war.

The Playlist

-

Director Mark Steven Johnson can't seem to balance a tone here, which is a pity because for the most part he stands back and lets the two stars go at each other.

The New York Times

-

It's not worthless, but it's not good. As a genre film, it's too ambitious; as an art film, it's too obvious.

Slant Magazine

-

Mark Steven Johnson's Killing Season is a hard movie to take seriously, which is particularly unfortunate since it deals with such weighty issues as genocide, the ethical compromises that everyone makes in combat, and the lingering effects of wartime decisions on participants years down the line.
Killing Season (2013)
Two veterans of the Bosnian War, one American, one Serbian, who clash in the remote Smoky Mountain wilderness.