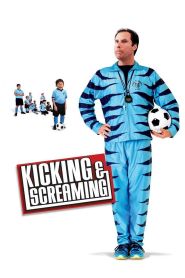 General Information
Glossary: K
Released Year: 2005
Runtime: 95 minutes
Genre: Comedy, Family, Romance, Sport
Directors: Jesse Dylan
Writers: Leo Benvenuti, Steve Rudnick
Casts: Will Ferrell, Devon Gearhart, Laura Kightlinger, Jim Turner, Rachael Harris, Robert Duvall, David Herman, Kate Walsh, Josh Hutcherson, Musetta Vander, Erik Walker, Steven Anthony Lawrence, Timmy Deters, Dallas McKinney, Mike Ditka, Dylan McLaughlin, Jeremy Bergman, Elliott Cho, Alessandro Ruggiero, Francesco Liotti, Sammy Fine
IMDB: Kicking & Screaming (2005) - IMDB
Sponsored Links
Ratings
User Rating:
IMDB Rating:
5.6
Reviews
Charlotte Observer

-

Ferrell's ideally suited to man-boy characters, and that's what Phil Weston is in "Kicking."

Christian Science Monitor

-

Some scenes are just silly, others are dead-on uproarious. Ditka, a real-life football legend, is a real find as our hero's assistant.

The Hollywood Reporter

-

Laughs-wise, it lacks the raucous edge of an "Old School" or "Anchorman" or the retro charm of an "Elf," but there's still plenty of Will-power to fuel this likable underdog trifle. It certainly is more enjoyable than a lot of what passes for family entertainment these days.

Variety

-

An immensely likable, funny comedy that finds a novel approach to that familiar combo of kids and sports.

Dallas Observer

-

This might be the most predictable movie of the year, but at least it delivers everything you expect it to.
Kicking & Screaming (2005)
Phil Weston has been unathletic his entire life. In college he failed at every sport that he tried out for. It looks like his 10-year old son, Sam, is following in his footsteps. But with becoming the coach of The Soccers, an already successful soccer team, everything changes.