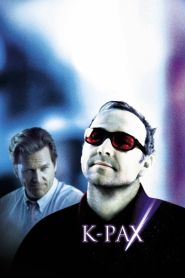 General Information
Glossary: K
Released Year: 2001
Runtime: 120 minutes
Genre: Drama, Sci-Fi
Directors: Iain Softley
Casts: William Lucking, Kevin Spacey, Peter Gerety, Brian Howe, Peter Maloney, Ajay Naidu, Frank Collison, Curt Clendenin, Celia Weston, Jeff Bridges, Vincent Laresca, Mark Christopher Lawrence, Lance E. Nichols, Mary McCormack, Kimberly Scott, Aaron Paul, Conchata Ferrell, John Toles-Bey, David Patrick Kelly, Alfre Woodard, Brandon de Paul, Greg Lewis, Mary Mara, Saul Williams, Melanee Murray, Tracey Vilar, Tess McCarthy, Natasha Dorfhuber, Zofia Borucka, Moet Meira
IMDB: K-PAX (2001)
Sponsored Links
Ratings
User Rating:
IMDB Rating:
7.4
Reviews
Seattle Post-Intelligencer

-

The movie itself is not completely successful, but it's consistently both engrossing and entertaining, and -- once again -- Spacey's performance creates a spell that lingers long after the lights come back on.

Wall Street Journal

-

When Kevin Spacey takes center stage, our planet really does seem bright.

Entertainment Weekly

-

I rather like the whole mystic- crystal-revelations aspect of K-PAX, and the idea that even a psychiatrist of Jeff Bridges' handsome, American substantiality is open to notions of cosmic improbability.

Philadelphia Inquirer

-

Both consoling and confounding.

Los Angeles Times

-

A pleasant enough entertainment raised above its station by the quality of its acting.
K-PAX (2001)
Prot is a patient at a mental hospital who claims to be from a far away Planet. His psychiatrist tries to help him, only to begin to doubt his own explanations.