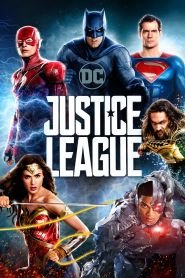 General Information
Glossary: J
Released Year: 2017
Runtime: 120 minutes
Genre: Action, Adventure, Fantasy, Sci-Fi
Directors: Zack Snyder
Writers: Chris Terrio
Casts: J.K. Simmons, Ciarán Hinds, Connie Nielsen, Robin Wright, Amber Heard, Julian Lewis Jones, David Thewlis, Holt McCallany, Ben Affleck, Joe Morton, Jeremy Irons, Jesse Eisenberg, Jason Momoa, Gal Gadot, Amy Adams, Diane Lane, Henry Cavill, Michael McElhatton, Billy Crudup, Marc McClure, Ezra Miller, Eleanor Matsuura, Joe Manganiello, Ingvar Eggert Sigurðsson, Doutzen Kroes, Samantha Jo, Daniel Stisen, Paulina Boneva, Kelly Burke, Lisa Loven Kongsli, Ray Fisher, Gemma Refoufi, Alexandra Ford, Sergi Constance
IMDB: Justice League (2017)
Sponsored Links
Ratings
User Rating:
IMDB Rating:
6.6
Reviews
IGN

-

It's messy and flawed but it still offers enough entertainment value (mostly thanks to its likable characters) to make it worthwhile.

Village Voice

-

The joints show, and the cuts are sometimes awkward — there was clearly a longer, more d-r-a-w-n o-u-t version of this at some point — but what's left after the cutting is fun and engaging enough, and it's all anchored by terrific lead performances. There were even times when (gasp) it moved me.

Entertainment Weekly

-

First, the good news. Justice League is better than its joylessly somber dress rehearsal, Batman v Superman: Dawn of Justice. Now the "but"…you knew there was a "but" coming, right? But it also marks a pretty steep comedown from the giddy highs of Wonder Woman.

TheWrap

-

If "Wonder Woman" provided a glimmer of hope that DC Comics movies might start looking, moving and sounding differently than before, Justice League plops us right back into "Batman v. Superman: Dawn of Justice" territory, albeit with a little more wit and humanity.

IndieWire

-

The resulting 119-minute pileup of showdowns and one-liners is an undeniably tighter, more engaging experience. It's also a tired, conventional attempt to play by the rules, with "hold for laughs" moments shoehorned between rapid-fire action — a begrudging concession that the Marvel formula works, and a shameless attempt to replicate it.
Justice League (2017)
Fuelled by his restored faith in humanity and inspired by Superman's selfless act, Bruce Wayne and Diana Prince assemble a team of metahumans consisting of Barry Allen, Arthur Curry and Victor Stone to face the catastrophic threat of Steppenwolf and the Parademons who are on the hunt for three Mother Boxes on Earth.