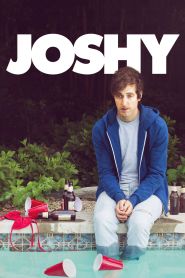 General Information
Glossary: J
Released Year: 2016
Runtime: 93 minutes
Genre: Comedy
Directors: Jeff Baena
Writers: Jeff Baena
Casts: Brett Gelman, Jake Johnson, Aubrey Plaza, Paul Reiser, Paul Weitz, Nick Kroll, Thomas Middleditch, Lauren Weedman, Lauren Graham, Jenny Slate, Alison Brie, Alex Ross Perry, Frankie Shaw, Lisa Edelstein, Luis Fernandez-Gil, Adam Pally, Joe Swanberg, Kris Swanberg, Samantha Jacober, Brian Patrick Farrell, Jess Varley, Jenn Schatz
IMDB: Joshy (2016) - IMDB
Sponsored Links
Ratings
User Rating:
IMDB Rating:
5.8
Reviews
Slant Magazine

-

The film feels most real, even at its most absurd, when focused on the idea of closure as a kind of fantasy.

The Hollywood Reporter

-

A safer but still funny follow-up to Jeff Baena's provocative debut.

Los Angeles Times

-

Ultimately, it's a fascinating depiction of the way men do — or don't — confront life's tragedies and traumas.

The New York Times

-

Mr. Baena (who, with David O. Russell, wrote the tricky 2004 "I ♥ Huckabees") is more accomplished than many microbudget filmmakers, and the looseness with which he imbues the middle section of Joshy is deceptive, creating a sense that the necessary emotional crash might not actually occur.

The Film Stage

-

Joshy doesn't provide any new revelations about the transition into adulthood, but, with an amusing ensemble, you could be stuck with a much worse group of guys.
Joshy (2016)
After his engagement ends badly, Josh decides to take advantage of his bachelor-party plans in Ojai, California, with the few friends still willing to join him. Focused on drugs and their own hangups, his self-absorbed friends refuse to confront the elephant in the room and ask Josh how he's feeling. As welcome and unwelcome guests stop by, Josh will attempt to find some closure over this weekend with the guys.