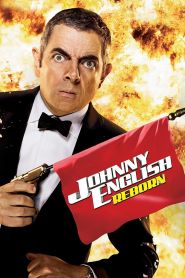 General Information
Glossary: J
Released Year: 2011
Runtime: 101 minutes
Genre: Adventure, Comedy, Thriller
Directors: Oliver Parker
Writers: William Davies
Casts: Mark Ivanir, Rupert Vansittart, Dominic West, Rowan Atkinson, Gillian Anderson, Rosamund Pike, Daniel Kaluuya, Tim McInnerny, Stephen Campbell Moore, Mariella Frostrup, Richard Schiff, Isla Blair, Emma Vansittart, Eric Carte, Roger Barclay, Christina Chong, Burn Gorman, Togo Igawa, Miles Jupp, Pik-Sen Lim, Ellen Thomas, Benedict Wong, Lobo Chan, Isabella Blake-Thomas, Andrew Woodall, Chris Jarman, Wale Ojo, Joséphine de la Baume, Eleanor Wyld, Margaret Clunie, Mandi Sidhu, Clara Paget, Richard Syms, Marvin Beyster
IMDB: Johnny English Reborn (2011)
Sponsored Links
Ratings
User Rating:
IMDB Rating:
6.3
Reviews
San Francisco Chronicle

-

The laughs, including the big laughs, keep coming right up to the closing seconds.

Variety

-

More a resuscitation than a rebirth, Johnny English Reborn finds British comedian Rowan Atkinson reviving his spoof spy character with this enjoyable if somewhat wheezy reprise.

Movieline

-

Johnny English Reborn never quite ignites, even though it starts out promisingly enough.

Los Angeles Times

-

All that matters with efforts like this is whether the cookie-cutter plotting serves up enough situations for Atkinson to contort himself into and out of jams. After all, are the narratives what you remember from the "Pink Panther" movies? Or the silly things, like that Clouseau could so easily get his finger caught in a spinning globe?

Entertainment Weekly

-

Fans of sophisticated humor may feel empathy with, if not sympathy for, the lead character on those many occasions he is kicked in the nuts.
Johnny English Reborn (2011)
The most prominent heads of state in the world begin gathering for a conference that could have a major impact on global politics. When MI-7 receives word that the Chinese premier has become the target of some high-powered killers, it falls on Johnny English to save the day. Armed with the latest high-tech weaponry and gadgets that would make even James Bond jealous, the once-disgraced agent uncovers evidence of a massive conspiracy involving some of the world's most powerful organisations, and vows to redeem his tarnished reputation by stopping the killers before they can strike.