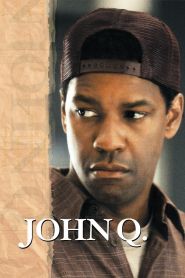 General Information
Glossary: J
Released Year: 2002
Runtime: 116 minutes
Genre: Drama, Thriller
Directors: Nick Cassavetes
Casts: Ethan Suplee, Ray Liotta, Denzel Washington, James Woods, Robert Duvall, Kevin Connolly, Anne Heche, Eddie Griffin, Shawn Hatosy, Heather Wahlquist, Kimberly Elise, Daniel E. Smith, Larissa Laskin, Dina Spybey-Waters, Shera Danese, Frank Cassavetes
IMDB: John Q (2002)
Sponsored Links
Ratings
User Rating:
IMDB Rating:
7.1
Reviews
Los Angeles Times

-

An all-stops-out rabble-rouser that hurls a broadside at America's medical insurance crisis.

Philadelphia Inquirer

-

This is an A-list cast toiling on a C-list screenplay.

New York Post

-

Not a movie but a live-action agitprop cartoon so shameless and coarse, it's almost funny.

Christian Science Monitor

-

It's as forgettable as they come.

Slate

-

Denzel Washington is so powerfully earnest an actor that you never want to laugh at him -- even when you ought to be in stitches.
John Q (2002)
John Quincy Archibald is a father and husband whose son is diagnosed with an enlarged heart and then finds out he cannot receive a transplant because HMO insurance will not cover it. Therefore, he decides to take a hospital full of patients hostage until the hospital puts his son's name on the donor's list.