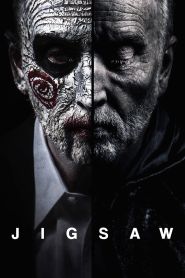 General Information
Glossary: J
Released Year: 2017
Runtime: 92 minutes
Genre: Crime, Horror, Mystery, Thriller
Directors: Michael Spierig, Peter Spierig
Writers: Josh Stolberg, Pete Goldfinger
Casts: Callum Keith Rennie, Laura Vandervoort, Paul Braunstein, Tobin Bell, Brittany Allen, Bonnie Siu, Michael Boisvert, Lauren Beatty, Attila Sebesy, Josiah Black, Mandela Van Peebles, Matt Passmore, Hannah Anderson, Sam Koules, Shaquan Lewis, Misha Rasaiah, Sonia Dhillon Tully, Tina Jung, Brandon James Sim, James Gomez, Ryan Manning
IMDB: Jigsaw (2017) - IMDB
Sponsored Links
Ratings
User Rating:
IMDB Rating:
5.8
Reviews
TheWrap

-

There are a couple of impressive set pieces in Jigsaw, but the traps seem fairly rudimentary, and it's up to the camera work to provide the needed jolts.

RogerEbert.com

-

While I can't exactly recommend seeing Jigsaw, I can tell you that it's fun to watch. I just don't think it's the kind of fun the filmmakers' planned.

Empire

-

If you don't like Saw, this isn't going to change your mind – but it's skilful, satisfying schlock and respectful of its fanbase. And the final death is a show-stopping coup de grace.

Variety

-

For 92 minutes, it more or less succeeds in sawing through your boredom, slicing and dicing with a glum explicitness that raises the occasional tingle of gross-out suspense but no longer carries any kick of true shock value.

Los Angeles Times

-

Jigsaw isn't awful. It'll do the job for anyone who must see a "Saw" movie in theaters on Halloween weekend. But a trip to a real-world escape room — or rewatching the original "Saw" — might be a better use of time and money.
Jigsaw (2017)
Dead bodies begin to turn up all over the city, each meeting their demise in a variety of grisly ways. All investigations begin to point the finger at deceased killer John Kramer.