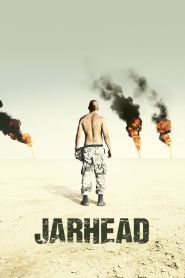 General Information
Glossary: J
Released Year: 2005
Runtime: 123 minutes
Genre: Biography, Drama, War
Directors: Sam Mendes
Casts: Jamie Foxx, Dennis Haysbert, Jake Gyllenhaal, Ming Lo, Peter Sarsgaard, Damion Poitier, John Krasinski, Laz Alonso, Chris Cooper, Dendrie Taylor, Lucas Black, James Morrison, Scott MacDonald, Brian Geraghty, Jocko Sims, Kevin Foster, Riad Galayini, Craig Coyne, Katherine Randolph, Honorine Bell, Brianne Davis
IMDB: Jarhead (2005)
Sponsored Links
Ratings
User Rating:
IMDB Rating:
7.0
Reviews
ReelViews

-

Jarhead is about how the experience of being in the military fundamentally changes an individual. In this case, the focus isn't about the madness of slaughter in the jungle, but the madness of inaction in the desert.

Entertainment Weekly

-

Jarhead isn't overtly political, yet by evoking the almost surreal futility of men whose lust for victory through action is dashed, at every turn, by the tactics, terrain, and morality of the war they're in, it sets up a powerfully resonant echo of the one we're in today.

The A.V. Club

-

Screenwriter William Broyles, Jr., a former Vietnam pilot and "Newsweek" editor, connects reasonably well with the material, but "American Beauty" director Sam Mendes has a tendency to smooth out the rough edges, and the film goes flat as month-old soda.

Dallas Observer

-

It may feel familiar, but it's a bleak and profound piece of work.

The Hollywood Reporter

-

Jarhead refuses to engage in its own point of view toward events it depicts. So the film feels empty and tentative, uncertain of what if anything these events add up to.
Jarhead (2005)
Jarhead is a film about a US Marine Anthony Swofford's experience in the Gulf War. After putting up with an arduous boot camp, Swofford and his unit are sent to the Persian Gulf where they are eager to fight, but are forced to stay back from the action. Swofford struggles with the possibility of his girlfriend cheating on him, and as his mental state deteriorates, his desire to kill increases.