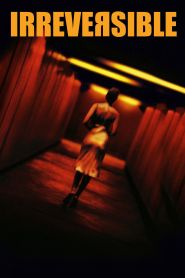 General Information
Glossary: I
Released Year: 2002
Runtime: 97 minutes
Genre: Crime, Drama, Mystery, Thriller
Directors: Gaspar Noé
Writers: Gaspar Noé
Casts: Philippe Nahon, Vincent Cassel, Monica Bellucci, Gaspar Noé, Jo Prestia, Albert Dupontel, Stéphane Drouot, Jean-Louis Costes, Mourad Khima, Michel Gondoin , Hellal, Nato, Fesche
IMDB: Irreversible (2002)
Sponsored Links
Ratings
User Rating:
IMDB Rating:
7.4
Reviews
Chicago Sun-Times

-

The fact is, the reverse chronology makes Irreversible a film that structurally argues against rape and violence, while ordinary chronology would lead us down a seductive narrative path toward a shocking, exploitative payoff.

Portland Oregonian

-

Made with disarming craft and cunning. Intermixed in the memories it leaves of horror and disgust are glimpses of impressive technique and savvy psychological insight.

Charlotte Observer

-

About halfway through Irreversible comes the longest sustained act of violence I've seen onscreen.

Film Threat

-

Anyone with a weak heart or a queasy stomach should stay away. In fact, most everyone everywhere should stay away. But if you still want to see Irreversible, be prepared to see images that will upset and disturb you for a long, long time. Be prepared to be shaken to the very core.

Chicago Reader

-

Stupid, vicious, and pretentious, though you may find it worth checking out if you want to experiment with your own nervous system.
Irreversible (2002)
Events over the course of one traumatic night in Paris unfold in reverse-chronological order as the beautiful Alex is brutally raped and beaten by a stranger in the underpass. Her boyfriend and ex-lover take matters into their own hands by hiring two criminals to help them find the rapist so that they can exact revenge. A simultaneously beautiful and terrible examination of the destructive nature of cause and effect, and how time destroys everything.