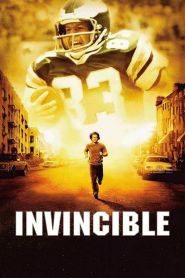 General Information
Glossary: I
Released Year: 2006
Runtime: 105 minutes
Genre: Biography, Drama, Sport
Directors: Ericson Core
Casts: Mark Wahlberg, Elizabeth Banks, Jack Kehler, Lola Glaudini, Michael Kelly, Michael Rispoli, Michael Nouri, Greg Kinnear, Nicoye Banks, Lynn Cohen, Stink Fisher, Paige Turco, Kevin Conway, Morgan Turner, Dov Davidoff, Kirk Acevedo, Sal Darigo, Turron Kofi Alleyne, Cosmo DeMatteo, Michael Mulheren
IMDB: Invincible (2006)
Sponsored Links
Ratings
User Rating:
IMDB Rating:
7.1
Reviews
Entertainment Weekly

-

Wahlberg, with shaggy hair and a pumped bod he wears more convincingly than any actor, plays Vince as a guy who truly doesn't expect to win. That makes his rib-bruising triumph all the more believable and touching.

The A.V. Club

-

Sure, the unlikely ascendance of 30-year-old Vince Papale from working-class suds-pumper to Philadelphia Eagles benchwarmer is a victory for the little guy, but it's still more of a personal victory, and that's what makes it touching.

Chicago Tribune

-

The actors make it work. Greg Kinnear's Coach Vermeil exudes Southern California good vibrations without a lot of fuss or attitude.

Village Voice

-

Invincible joins "Rocky" or "Hoosiers" or "Breaking Away" as one of the few satisfying sports movies in which the foundation built upon a heap of clichés holds strong.

Variety

-

Handling both directing and cinematography duties, Core invests both with a clearly impassioned sense of place, period and perspective regarding this fanfare for common men.
Invincible (2006)
Inspired by the true story of Vince Papale, a man with nothing to lose who ignored the staggering odds and made his dream come true. When the coach of Papale's beloved hometown football team hosted an unprecedented open tryout, the public consensus was that it was a waste of time – no one good enough to play professional football was going to be found this way.